Professor Daizal Samad's announcement of his resignation from the post of director of the University of Guyana, Berbice Campus  (UGBC), has sparked a public outcry for him to remain and some civic groups have launched a petition to this effect.
A group of concerned Berbicians met in the auditorium of the UG Tain Campus on July 31 to discuss ways to persuade Samad to stay as director of UGBC.
Professor Samad, who has served as director of UGBC for the past four years, tendered his resignation on July 4, effective from October 4. Citing an intolerable working environment and a breakdown in communications between himself and his counterparts at Turkeyen, Samad said all authority to function as director had been taken away from him and he can no longer be effective.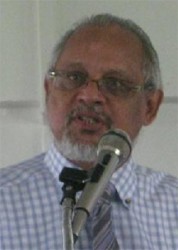 In his letter of resignation addressed to Dr Prem Misir, Pro-Chancellor of UG, Samad stated that his decision "springs from the fact that I can no longer function under the current conditions prevailing at the University of Guyana." He went on to write of personal sacrifices made since his return to Guyana in 2008 to assume the role of director of UGBC, sacrifices he had been willing to continue making. However, since his return in April of this year after the renewal of his contract, Samad said "there have been too many threats and too much corrosion of authority" relative to his role as director of UGBC.
While Samad is yet to receive formal acceptance of his resignation from the University of Guyana Coun-cil, some Berbicians have decided not to accept his decision to resign, and are trying to create a better working environment with the hopes of persuading him to stay.
The concerned parties believe that the professor has contributed tremendously to and has had a significant impact on the overall growth and development of the Berbice Campus and its blossoming relationship with the private sector. Hence, they said that to lose him at such a "crucial" time in the campus's development, will be "a price UGBC cannot afford."  They spent several hours brain-storming to find ways to have Samad stay as director of UGBC, and at the end, came up with a petition.
The civic groups are uniting to collectively petition President Donald Ramotar to intervene. Since Samad had been very vocal over the years in his lobby for UGBC to become fully autonomous and in so doing had criticised the management of UG Turkeyen, the petitioners felt the professor would be persuaded to stay if the Berbice Campuses of UG were given autonomous status. Thus their first request on the petition is for President Ramotar to give UGBC full autonomy from the Turkeyen Campus.
The petition has five other requests: that the name University of Guyana Berbice Campus be changed to the University of Guyana in Berbice (UGIB) or the University of Berbice in Guyana (UBIG); that the University under either name be headed in the first instance by Professor Samad; that Professor Samad be tasked to submit to the President the needs and personnel required to effect the change of status from UGBC to UGIB or UBIG; that Professor Samad be tasked with nominating seven Berbicians to serve on the board of the Berbice University and that Professor Samad be tasked with submitting a modern administrative structure for the Berbice University within one month of the President's request for such a structure.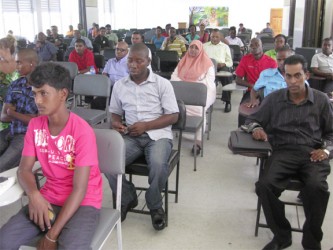 John London, Security Management Consultant, acting as the spokesperson of the combined civic groups, told Stabroek News that they believe that UGBC cannot afford to lose Samad. "We know that at Turkeyen, our head university, there are many problems – problems that we know nothing about here. For instance students do not get robbed on the campus here," he remarked. Adding that, also in contrast to Turkeyen, at UGBC "from all audited reports since Professor Samad took over, there has been fiscal management to the extent where instead of asking for money before the end of a budgetary year, we return surpluses; and not one year or two year, but for at least the past two to three years."
It is London's opinion and those who have joined the 'Save UGBC; Keep Samad' group, that "Berbicians cannot allow, should not allow someone [Samad] who has made so many personal sacrifices – his wife is in New York, while he is here and that is a hell of a lot personal sacrifice, to leave. Yet we have people maligning him and demoralising him to the extent that he is fed up and wants to pack up and leave."
During his tenure at UGBC, Professor Samad forged relationships with different groups in the Berbice community, all of whom came out to support the campaign to keep him as director of UGBC.
Pastor Shawn Geer, commenting on Samad's resignation said, "If that is to be allowed, it will be a tragedy and a great loss to Berbice and the country as a whole."
Pandit Kamal Dhanessar declared, "It is up to us [civil society] to let our voices be heard as to what we want to see happen to this [Berbice] campus. Are we going to watch and let it go down the drain and be destroyed by Turkeyen's problems? Or are we going to stand up and speak up and decide as a people exactly what we want to see happen to the university?"
Glowing testimonials of Professor Samad's accomplishments at UGBC came from past and present students of the campus; farmers from Black Bush Polder who are benefiting from research studies on crop diseases initiated by UGBC under the leadership of Samad; police officers trained at the Felix Austin Training College at Adven-ture, Corentyne who attended courses on Information Technology, Report Skills Writing and benefited from other courses made available at UGBC; and other underprivileged groups who were taught how to use the computer via free programmes arranged by Professor Samad at UGBC.
Sixty-seven-year-old Janak Jodhan, a student of the Department of Education and Humanities at UGBC who was encouraged to further his studies by Professor Samad, called for public support to retain the services of Samad as director of UGBC.  He stated, "We have found a native Berbician to run our campus, and he has planted his vision in all the communities in this county. I think it is about time we as Berbicians wake up and educate ourselves and our children." He opined, "If Professor Samad is given the opportunity to run this institution [UGBC] as an independent autonomous body we would see education not compromised as we see at Turkeyen."
Around the Web