The Georgetown Mayor and City Councillors (M&CC) yesterday started blocking the entrance to City Hall's chambers in an attempt to prevent acting Town Clerk Carol Sooba from entering the building and to force her removal.
City Hall personnel and concerned citizens, including vendors and members of the religious community, gathered yesterday at City Hall, where they formed a barrier in front of the building to prevent any attempt by Sooba to enter the premises, where her offices are located.
Mayor Hamilton Green told Stabroek News that their actions were aimed at getting the Local Government Ministry to endorse their calls for the removal of Sooba, who has been described as incompetent by the council.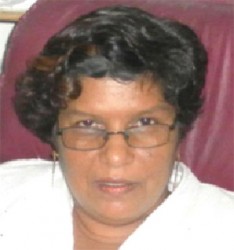 He stated that as they blocked the entrance to the Town Clerk's office, she did not turn up for work. The mayor also noted that they will continue to prevent Sooba from entering the premises until the ministry removes her.
On Monday night, a vigil was also held in front of Sooba's Duncan Street home.
These latest actions come after a no-confidence motion was passed against Sooba on July 25th by councilors in an effort to have her removed from the post. Letters calling for her removal were subsequently sent to Minister within the Local Government Ministry Norman Whittaker informing of the position the council had taken.
To date, the Ministry has been silent on their position regarding the council's decision.
Green added that he has made numerous attempts to speak with Whittaker but was unsuccessful on each try. He further highlighted that the ministry is refusing to remove Sooba and this is evident in the fact that there has not been any advertising of the vacancy for the position for the past three months.
Around the Web