Police say that Shawn Fordyce is wanted for questioning in relation to the attempted murder of his wife Donette Blackman and three daughters which occurred on August 1st, 2013, at D Field Sophia.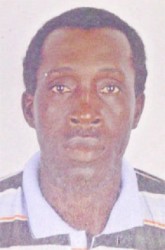 Anyone with information that may lead to the arrest of Fordyce is asked to contact the police on telephone numbers 225-6411, 226-6978, 229-2569, 229-2702, 229-2557, 911 or the nearest police station.
His last known addresses is   Lot 132 'D' Field Sophia, East Coast Demerara and Paradise Village, West Coast Berbice.
Blackman's three daughters have since been discharged, while Blackman remains a patient in the High Dependency Unit of the Georgetown Hospital Complex.
Around the Web