Relatives of Mocha resident Delon Melville who was found murdered in a trench at Mocha Backdam say that police have asked them for two weeks to complete their investigations.
So far, from all indications police have no leads as to how or why the 26-year-old man was killed.
Melville's sister Melissa Haynes told Stabroek News last evening that while they have heard nothing new, the police have asked for time "to do their wrap up". She said that while she is not satisfied with the way the investigation is going she and her relatives are willing to give the police the two weeks that they are asking for.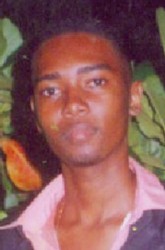 She said that she is convinced that whoever telephoned her brother prior to him leaving his Nelson Street home is responsible for his death. "He was murdered by people he trust and knows.", the woman said.
Haynes told Stabroek News that his hands had a lot of stabs and it is believes that they were defensive wounds. She added that it is also strange that Melville was found in that deserted area as it is only residents of Mocha who know it.
Melville was buried on Monday.
Melville went missing on the evening of July 29 and was discovered on August 2 by a group of men who were heading out in the early morning hours to catch birds.
Distraught family members had said that he was watching movies when he received a phone call and left, never to return. After his disappearance, his family members received phone calls from a male caller, who identified himself as Junior and informed them that Melville was dead. When asked for the location of his body, he told the family he would call back with the information but never did.
A post-mortem examination revealed that he died as a result haemorrhage and shock due to multiple incised wound. He sustained multiple stab wounds to his chest and his throat was also slashed.
Around the Web