Thirty-eight-year-old Garvin Newyear of New Forest, East Canje died yesterday after a motorcycle accident.
The lifeless body of Newyear, a labourer attached to the Rose Hall Sugar Estate for the past 14 years, was discovered slumped in a trench near the East Canje Public Road in the vicinity of Speculation. It is suspected that he lost control of his motorcycle after imbibing alcohol and rode off the road, ending up head down in a nearby heavily-vegetated trench.
The father of three reportedly imbibed several alcoholic beverages on Wednesday and spent the night at his twin brother's house, Goed Bananen Land, East Canje. According to reports, Newyear left for home at around 6:30 hrs on a Jialing 110 motorcycle, CF 1931.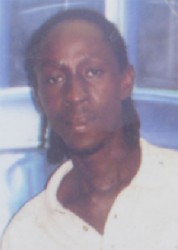 Margaret Newyear, the mother of the deceased who resides at Lot 17 New Forest Village, was not surprised when she heard the news and admitted that her son was a frequent drinker of alcohol who had ridden off the public road a few times in the past. "We spoke to him several times about his drinking habits but he never listened," she said, recalling that "after he failed to return home and we kept calling his cell phone without luck, his uncle, brother and I went in search of him,". "It was just before 9:00hrs that we made the gruesome discovery," the woman sobbed.
Despite his tendency to over-indulge in alcoholic beverages, Newyear, was described by his mother as a fun-loving and caring person, who always reached out to his family and made everyone happy. "He was a loving son," she remarked, "I lost a good child and no one can ever replace him".
His reputed wife, Shonette Taylor, a housewife, also described him as a kind person and one who always looked after his family. "Like every other home, we had our ups and downs but he was a committed person. Despite his drinking habit, he was never an abusive person to any of us," she stated adding that "he always demonstrated compassion".
Taylor's fourteen-year relationship with Newyear produced three children ages 14, 12 and 9.
An autopsy is expected to be conducted on the body today at the New Amsterdam Hospital Mortuary. Family members are making arrangements for a funeral which is scheduled for Tuesday.
Around the Web