Although the AFC has declined his resignation, party Chairman Nigel Hughes plans to take a break to decide if he will remain in politics.
"I made the decision to resign because I do not want the public to be distracted from the real issues the AFC wants to articulate. There was never any hypocrisy because I was the company's [Sithe Global] legal advisor here, since before any politics for me… I am taking a break and will ask myself: 'Do you wish to be in active politics or did you make an error coming into this territory?' For me, the people will have to decide," Hughes told Stabroek News yesterday.
Hughes offered his resignation to the party on Tuesday, following a news report that highlighted his holding the post of Company Secretary of the Amaila Falls Hydropower Inc, the company set up to pilot the project. The implication was that in such a position, Hughes could hardly take part in party deliberations on whether to support the controversial Amaila Falls hydropower project and that there was a risk that the party could be swayed by virtue of the position he held with the company.
The AFC shortly after rejected the offer of resignation and said that it maintained full confidence in him.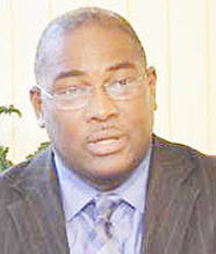 Hughes explained that the perception by some that his role in the company and the AFC posed a conflict could not hold ground, while saying the details of his ties were negatively skewed in reporting. He informed that his law firm and by extension him were hired by Sithe Global  to offer advice on the respective  legalities of  Guyana's corporate world as it related to the company's business, after Sithe had done research on lawyers here. "I got retained to advise them. This was in 2009 and they had done their own research on possible attorneys here…then I would not have even been relevant in the AFC," he said.
Further, he said that he never saw his role as legal advisor being a conflict of interest position when he joined the AFC as he was and is not a decision maker for either the party or of the project for the company.
These views were echoed by AFC leader Khemraj Ramjattan at an AFC press conference yesterday, where he voiced his support for Hughes, saying that he firmly believes and will defend the position that his members can compartmentalise.
He reiterated that when Hughes took the job with the company, he was not a member of the AFC and when he assumed the Chairmanship of the party last year, he had informed the AFC of his association with Sithe Global. When the conversations on Amaila started, he said, Hughes recused himself from them, saying that he did not want in any way to give the perception that he was partial.
Ramjattan, who is also an attorney, recalled a similar occurrence when he was a member of the People's Progressive Party and was legal representative of a group of businessmen who were not. "Lambert Marks called Janet (Jagan) and complained and she called me and said, 'You are a PPP man, you cannot take the case of these men.' And I had to tell her that you cannot tell me who my clients are," he said. "In our professional capacities, we have the obligation to take on the cases for whoever… we don't want an inconsistency. The AFC treats its people with that kind of value system. I would never tell Cathy (Hughes) and Nigel whichever case to take on and that's what happens in a democracy," he added.
Cathy Hughes, whose company has done public relations work for Sithe Global and is also an AFC MP, also defended herself as she weighed in on the issue. "We can agree to disagree… I am an individual. I have my personal views and when I speak I would say which is which… my personal view on abortion may not be AFC's view but when I walk into Parliament, I put aside Cathy Hughes and speak for the AFC," she said.
"The AFC comes to decisions through a democratic process and at the end of the day we have come up with a public position …not Cathy Hughes'…when it comes to my professional work, I uphold the highest standards. Everybody that comes to my company knows that I will give them the highest and the best and that is why I am chosen," she added.
Further, she said that the perception that she is an AFC member and will be biased given that she does consultations for any company that has contrary views to her party was within reason as perception plays a key role. However, she wanted the public to know that she would never deviate from her high standards and compromise her party's position on any issue.
"There is the perception that because I am in the AFC this and that… my track record will show that I will do that. I give every single client the best.… At the end of the day, everybody in the market place has the right to chose who they think that they will give them the best job," she added.
Around the Web