Dawn Da Silva, diagnosed with a brain tumour, is appealing for assistance to raise the money she needs to undergo brain surgery in Cuba next month.
Da Silva, a mother of two, needs to raise US$15,190 (equivalent to US3.1M) by September 21, when she is expected to be in Cuba.
She has been diagnosed with a meningioma tumour, which affects her sight, causes migraines and numbness to her face and doctors have advised that she have the surgery done as soon as possible.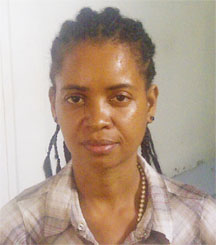 According to the National Brain Tumour Society, these tumours grow from the meninges, the layers of tissue covering the brain and spinal cord. As they grow, meningiomas compress adjacent brain tissue. The Society says that most meningiomas are considered non-malignant or low grade tumors. However, unlike non-malignant tumours elsewhere in the body, some of these brain tumours can cause disability and may sometimes be life threatening.
Da Silva, involved in a car accident 12 years ago, started to experience the effects of the tumour last year. The effects include numbness to the right side of the face, blurred vision and constant headaches. After undergoing an MRI scan, the tumor was detected, confirming her doctor's suspicions based on her complaints.
After she was diagnosed, Da Silva says she was told that she would have to seek treatment overseas as the operation cannot be done here. She approached the Ministry of Health, which has told her that she had to make contact with a hospital and get the estimate for the operation. She said that she sent her documents to a hospital in Havana, Cuba, from which she got the US$15,190 quotation. The figure does not include air fare, accommodation for any person who may accompany her or after care. Da Silva was told that she would remain hospitalised for up to two weeks after the surgery. So far, the Health Ministry has pledged US$5,000, she said.
Da Silva, who is a single parent, says her condition has affected her ability to play with her children and help them with their how work.
Anyone wishing to help Da Silva can contact her on 610-4095 or 688-0927.
Around the Web