Local Government Minister Ganga Persaud says that the passage of four long-delayed bills on Wednesday paves the way for elections to local government bodies to be held in around six months.
Persaud admitted, however, that since the bills have not yet received the assent of the President, he is unable to say definitively if the necessary preparations for such elections have begun, and by extension, when local government elections would be held. He did say, though, that he would prefer the elections be held as soon as possible.
Persaud told Stabroek News that contact has to be made with the Guyana Elections Commission (Gecom), for it to give an update on its preparation.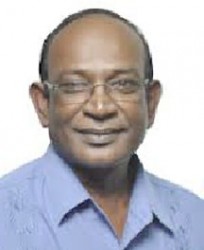 Gecom Public Relations Officer Vishnu Persaud said yesterday that the key pre-requisite for local government elections is to name a date on which the elections are to take place. Setting this date, he noted, is the responsibility of the Local Government Minister.
The PRO said that Gecom has been making preparations every year in the event that the elections were called. As things stand, he said, Gecom has a framework in place to guide the process for elections if and when it is called.
Vishnu Persaud said that with the present framework, Gecom's Secretariat's position is that before elections takes place there needs to be a six-month preparations period, but he added that it is possible that the framework can be looked at and reworked to alter the time needed for preparations.
On the matter of Gecom's preparedness, APNU MP Basil Williams says that the body had ample time to prepare for the elections and should not need six months to make the necessary preparations to host the elections.
Williams told Stabroek News that Gecom was kept abreast with the progress of the Special Select Committee on Local Government as it deliberated on the four local government bills. As a result, he said, knowing that the completion of the bills was imminent, it should have been working towards hosting the elections.
"They can't tell we they want six months now. They had nothing else to do all the time. They should have been preparing for this, otherwise they were just wasting taxpayers' money," Williams said.
Vishnu Persaud said, though, that unforeseen circumstances, such as calls for another round of registration, can get in the way of preparations for polls. He also said that there will be a need to do a lot of educational work so as to ensure that the population is aware of what will be required of them during such elections.
Guyana utilises a combination of the First Past the Post and Proportional Representa-tion electoral systems, he explained, and he noted that there will be a need to make people aware of the intricacies of this system.
For example, Guyana has 65 Neighbourhood Democra-tic Councils and 6 Munici-palities, each of which would need to have their own elections, he explained. He added that each citizen needs to know that they will only be allowed to vote in the constituency in which they are registered.
Of course, none of these things can take place until the president signs the recently passed bills.
Persaud noted that once the polls are held, a new set of councillors both for the Neighbourhood Democratic Councils and the various Municipalities will be elected to serve. He added that political parties, other relevant groups, and even individuals will be able to contest the elections for the opportunity to represent their community or municipality.
Around the Web