A petition calling for revision of the 2006 Amerindian Act was launched on Thursday, with activists proposing several changes to the legislation, including "recognition of rights to ancestral land, territories and resources."
Activists have long called for revision of the Act and conflicts with miners over mining rights in recent times have seen a renewed push for the legislation to be amended. However, government has previously indicated that it is not inclined to do so and has described the legislation as one of the most progressive in the world.
Amerindian rights activist Laura George at the Umana Yana on Thursday officially launched the petition for the revision of the Act. Reading from an open letter to the president, she said that the "Amerindian Act of 2006 does not fully protect our rights as indigenous peoples and fails to adequately offer protection when it comes to issues that are of concern to us. We also feel that in some ways it represents a step backwards from protection that existed before revisions in 2006."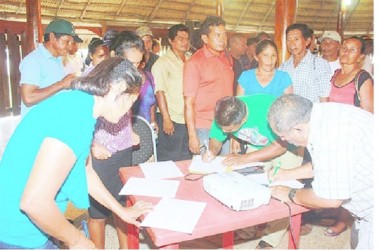 According to George, the Act itself is deficient and contains "law and procedures that failed to recognise those rights as contained in international human rights laws and which the states has signed and agreed to abide by."
George stated that the petition calls for making four changes to the current laws and regulations. The first point is to amend the Act itself and "Guarantee indigenous people rights to self determination and recognition of rights to ancestral land, territories and resources." She pointed out that under the Constitution, indigenous life is to be respected and guaranteed.
The activist further said that the amendments have to be developed with the participation of indigenous representatives and there has to be development in recognition of international standards. The final point that George spoke about was ensuring "that other national legislation is made compatible with the Act…that those legislation similarly respect our rights and provide adequate protection."
This is one aspect that has been highlighted recently following a High Court decision in January which sparked protests by Isseneru villagers as well as indigenous groups and some Amerindian leaders after the ruling upheld a miner's right to continue with operations on titled lands within Isseneru.
George maintained, as did the other speakers, that the current Amerindian Act lacked definition when it came to both titled and untitled land rights. She said that the Act does not deal with untitled lands and even after the formation of the Act "we saw these lands being granted as mining and logging concessions just because we do not have titles for them."
Further, George said that the right to self-govern is important to the recognition of land, territories and ownerships of resources. She said that since 2006 the situation did not get better and in fact even more concessions were given out through lotteries. "How can the financial gain of an interest group be given priority over our lives as a people? For us, our land is not simply the means to material wealth, it is our life source," she asserted.
The activist said that resources are being sold out and future generations would be devoid of their ancestral lands. "Farms, fishing and hunting grounds…are being destroyed by miners and others" under the current legislation and a change is needed to address the various concerns, George said.
Meantime, speaking on behalf of the Amerindian Peoples Association (APA), Sharon Atkinson denied suggestions by government that the APA would like a state within a state. This was inaccurate, she said while explaining that ancestry plays the largest role in land rights and indigenous people still rely heavily on the land for survival. She said that to preserve indigenous identities, people have to continue being "nourished" from the land and to live freely.
Atkinson said that it is not just the physical land that indigenous communities speak about but all that the land entails. She spoke about various plants used for medicinal purposes and also spoke about the various religious aspects.
A statement was read on behalf of Head of Delegation of the European Union in Guyana, Ambassador  Robert  Kopecký during the meeting which was part of activities to commemorate the Inter-national Day of the World's Indigenous Peoples which was observed yesterday. The EU statement reflected on the 2007 UN Declaration of the Rights of Indigenous people, while acknowledging that discrimination and unequal treatment is still an issue and more barriers have to be broken down.
No government representative was present at the launch of the petition.
Around the Web