The family of late New Amsterdam Hospital administrator Audrey Fields last week made donations to the facility and the National Psychiatric Hospital at Fort Canje, which they believe are doing exceptionally good jobs.
Members of the Fields family of West Berbice visited the town and presented a quantity of bed sheets and other items to the Paediatric Ward of the New Amsterdam Hospital and bed sheets to the mental institution.
The donation was made in memory of the late Audrey Fields, who served as an administrator of the New Amsterdam Hospital when it was located at Charles Place, before being relocated to Garrison Road. She passed away in the USA, in February of 2009.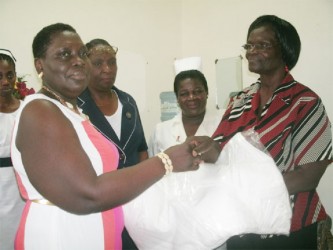 "My sister-in law worked at the mental hospital and my sister [Audrey] worked at N/A Hospital. So we all decided to present some sheets to the mental hospital and some other paraphernalia for the Paediatric Ward– books, medications, towels, and other little things–that will be able to provide the needs of the children," Joan Fields explained.
"It was last year I came back to Guyana and visited the hospital [New Amster-dam], the children's ward, because I work with children overseas and I was impressed and wanted to do something for the hospital. We have a family reunion this year, and my family, we decided to make it a collaborative effort," she added.
"We do care about them and it is a good opportunity when we can serve our country. If we are blessed to get, we must be blessed to give," the woman further stated, while commending the staff of the hospitals for doing exceptionally good jobs and urging them to make full use of the items.
Leila Clark-Daniels, the present administrator of the National Psychiatric Hospital, accepted the donations on behalf of both institutions. Speaking briefly about the late Audrey Fields, Clark-Daniels reminisced of the days they worked side by side at the hospital. "I was very close to Ms. Fields. She worked at the New Amsterdam Hospital; she was the hospital's administrator. Matter of fact, she was the administrator of the Berbice group of hospitals. So, I was under her tutelage," she reflected.
Clark-Daniels also conveyed thanks for the items donated and assured the Fields family that the items donated "would go a far way in enhancing the services we provide to the patients."
"We are happy that you are thinking of us, we know this sentiment was passed down from her [Audrey] to you," she said, while adding that the gesture was reflective of the life Audrey Fields lived and the kind of person she was. "She is smiling down on us, she is happy about this presentation. This is the type of person she was. This is the kind of stuff she did," she added.
Around the Web