Calvin Bailey burst into tears yesterday when, for the second time this year, he learnt he would have to face another trial for the murder of his toddler son after a jury failed to agree on a verdict.
The 12-member jury returned without a consensus after deliberating on the evidence presented in the case in the High Court.
Justice Navindra Singh, who presided over the case, then asked the jury foreman if any further direction from the court would assist jurors in arriving at a verdict but the foreman stated that he did not think so.
Bailey became jittery after the foreman reported the lack of consensus to the judge.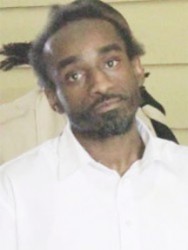 Justice Singh then informed Bailey that he would be remanded to prison to wait another retrial because the jury could not arrive at a verdict. Bailey burst into tears as he was being escorted out of the courtroom.
Bailey was on trial for the murder of 18-month-old Shaquan Nero, who he is alleged to have mortally injured after attacking the child's mother and his then partner, Bernadette Nero, on April 4, 2007, at Amelia's Ward, Linden.  He allegedly stabbed the child to death as he attacked Nero, who was on her uncle's landing screaming for help.
In February of this year, Bailey was on trial for the murder but the jury then also could not arrive at a unanimous verdict.
State counsel Tishana Lake led the prosecution while attorney George Thomas appeared for Bailey.
Around the Web