By Jeff Trotman
Dr. Stephen Carryl lives a purpose-driven life.
"I don't care how small or little, you cannot live life without a purpose," he said at a social gathering last Friday at the LEN Building, in Linden, to wrap up his annual mission heading an Overseas Medical Assistance Team (OMAT) to Linden. "I'm just blessed that my profession and my purpose line up right so that I could come back to Linden and do what I… was designed to do. I was born to help people and I know it. So, I don't fight it. You know there are some people, who have a purpose and they try to run away from it?"
Since 1991, he has been heading the annual mission, which comprises a variety of United States-based medical specialists and nurses, who provide free medical examinations, diagnoses and surgeries to Linden and Region Ten at the Linden Hospital Complex. During the social gathering, Region
Ten Chairman Sharma Solomon presented Dr. Carryl with a plaque of appreciation for the outstanding and caring approach to medicine that he and OMAT have been giving to Linden and Region Ten since 1991.
Dr. Carryl, Chairman of Surgery at the Wyckoff Heights Hospital Center in Brooklyn, NY, said that he was 17 years old when he left Linden for America in 1984 and the things that he took with him were the things that made him succeed. "It's not so much what I found in America but what I took with me to America," he said. "As a young person, I went there with a value and a work ethic that came from the Linden community."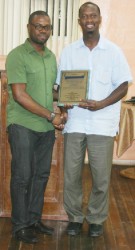 Noting that OMAT began its medical assistance mission to Linden 22 years ago, Dr. Carryl stated that nobody has to convince him to engage in the annual exercise. "I feel that what we need to understand is that when we come to Linden, we're not coming to do anybody a favour.
If they never give me a plaque, I'm coming. If they never remember me, it doesn't matter," Dr. Carryl elaborated. "I don't care what people write. It doesn't matter.
I tell my wife if I have to come by me one-self, I would come every year because I could just go to the hospital and do surgery. No disrespect to other people. I'll come to Guyana, come to Linden and help the people in Linden."
The OMAT leader declared: "I am from Linden. I am a part of the community and God has blessed me to be in a position and I'm not just talking about in Linden.  Do you know how many people I meet in New York who are from Linden? It just so happens that God put me in a position to help them. It's just an extension of life."
A devout Seventh-day Adventist, his faith also informs Dr. Carryl's works. "I don't care whatever one achieves in life, it is not about money, every human being needs a cause; the spirit of the Lord don't just come on you for coming on you. He comes on you because of something," he noted.
He stressed that the administrators at the hospital at which he works as head of surgery know of his annual trips to Haiti and Linden to do voluntary service. He also disclosed that people in Linden also do him a favour because although he comes to help, he leaves more blessed than Lindeners could imagine.
In the brief address to an audience of about 30 people, including former teammates of the now defunct Yellow Birds Basketball Club of which he was a leading member, Dr. Carryl expressed personal pride in having "the distinction of representing Guyana at basketball" before he emigrated to the United States. Former Secretary of the Linden Fund USA, Linda Felix-Johnson, who received a plaque on behalf of the fund during the reception, disclosed that Dr. Carryl has travelled all over the world, helping people, who are in need of medical help.
"Dr. Carryl was one of the first medical doctors to go into Haiti, following the earthquake," Felix-Johnson said, while adding that it was difficult to get to Haiti by air during that period so Dr. Carryl had to travel by air to the Dominican Republic and get to Haiti over land through rugged border territory.
"He also comes back every year and gives back to the Linden community," Felix-Johnson repeated, adding that he spends up to twelve hours doing surgeries. "I don't know how he does it. He works from gong to gong and is willing to do more," she said.
She pointed out that the medical mission did not come to Linden last year because of the month-long electricity rate hike protest but during the 2011 visit, Dr. Carryl saw a three-year-old girl, Akeelah Slowe, who had a large tumour in her abdomen.
Dr. Carryl, in collaboration with the Linden Fund, USA, other medical personnel and organisations, arranged for the child and her father to travel to the USA, where he conducted surgery at the Wyckoff Heights Hospital Center, in January 2012. Shortly after, the girl and her father returned to Guyana.
As soon as the mission arrived in Linden on July 29, this year, Dr. Carryl kept asking for Akeelah.
He wanted to see how she was doing. After searching for the little girl, Felix-Johnson was able to locate her on the final day of the mission, a few hours before the social gathering, when there was a happy reunion between doctor and patient.
Around the Web