Six months have passed since St Margaret's Primary School student Joshua Hubbard died after he was pushed down in the school's compound by a classmate and the Education Ministry is still to release the findings of the investigation that was launched into the case.
Orin Hubbard, father of the child, expressed disappointment at the ministry's failure to release the findings of the probe, which was completed in March and he said it is indicative that it is not doing its job.  The eight-year-old boy died in February this year, hours after he was pushed down by another child.
After the incident at the school, the child went home and during the course of the night he began complaining of excruciating pain. He was then rushed to a private hospital, where he succumbed. A post-mortem examination revealed he died as a result of a fractured spine, blunt trauma to the neck and haemorrhaging in the brain.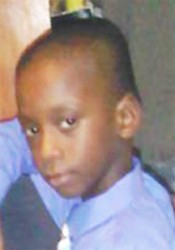 Hubbard told Stabroek News yesterday that he had visited the Ministry two to three months ago and he was told that it would look into the matter and make contact with him. Up to yesterday, no further information was relayed to him by the ministry, he noted.
In March, Chief Education Officer Olato Sam had said that the probe into the eight-year-old death was completed and with the minister. Since then, nothing has been said about the findings of the investigation and attempts by this newspaper to contact Sam yesterday were unsuccessful.
Hubbard said that he "feels bad" because of the way the ministry is handling the matter. He stressed "if was somebody close to them, something better would a come out. But everybody just sit back and relax. No concern."
Around the Web