The fears of the mother of Quincy Oliver Sooklall, whose body was pulled from the Demerara River with visible marks of violence and what appeared  to be a gaping hole through his chest, were confirmed when an autopsy last Friday revealed that he died of a gunshot wound.
On the afternoon of Saturday August 3rd, Sooklall's decomposing body was fished out of the Demerara River behind the Guyana Fisheries.
His mother Petronella Sooklall had said the body was in such a state of decomposition that she was only able to identify her only child from his feet and clothing that he had been wearing. The man, who was a fisherman, had been missing since the evening of August 1st.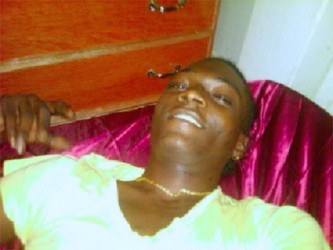 The woman said that it appeared that her son was severely beaten and thrown overboard possibly already dead or unconscious. "They beat my son. If you see how he look… it has to be friends because I hearing some things and the names is people he used to move close with… he was shot because he had a big hole in his chest and right through his back. I don't know what gun they use for that to happen because if you see this hole," she said.
The autopsy was performed only Friday last due to delays in paperwork. It was revealed then that the young man died from a gunshot wound to his chest. His mother said that it seemed that a high-calibre gun was used to do the killing as the wound made by the shot was huge both at the entry and exit points on her son's body.
In addition, she said that it appeared that her son's hands and feet bound before he was thrown overboard.
She said that to date there has been no progress in the investigations into his death but she wants police to not let her only child become another cold case.
The man's mother, his common-law wife, who is five months pregnant, and friends all said that Sooklall did not have any grievances with anyone and was known for his fun-loving attitude.
They are still at loss to know who would want to torture him and kill him in such a gruesome manner.
Around the Web