A policewoman has been missing since last Friday and her worried relatives are seeking the assistance of the public in finding her.
Lance Corporal Patriena Nicholson, 38, of 44 Austin Street, Campbellville was last seen at the Republic Bank ATM at the Kitty GuyOil Gas Station.
Her sister, Shellon Nicholson told Stabroek News that the woman was given time off by the Office in Charge at Police Headquarters, Eve Leary to go home and tend to some chores. She noted that her sister was "in line" since she was in training for the upcoming police Gymkhana event, scheduled for later this month.
According to Shellon, Patriena left the area around 3.15 pm dressed in a brown top, blue jeans and black sandals.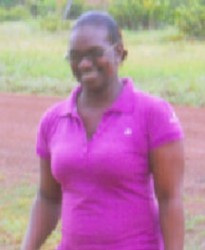 The woman said that her sister has been living with her for the past three months and had never disappeared before. She added that she keeps calling her cellular phone but the calls go straight to voice mail every time.
A report was made to the police on Monday, she said, while adding that a local telephone provider was approached for telephone records but she was told that this had to be done through the Commissioner of Police.
Asked if her sister had any grievances with anyone, Shellon said that about a month and a half ago, an ex-boyfriend had assaulted Patriena and a report was made.
While stressing that she is worried, she said that she is constantly checking at homes of relatives to see if the woman turns up.
Anyone with information on the whereabouts of Patriena Nicholson can call members of her family on 692-5163, 660-0500, 621-2126 or make contact with the nearest police station.
Around the Web