The bikers slated to perform at the Jamzone Bikers Fest on tomorrow in the National Park say they are not concerned that rainy weather will affect their performance.
In fact, the street bike and dirt bike riders, during a press engagement yesterday, said that if the rain does fall they will use the wet conditions to their advantage. One dirt bike rider shared the fact that the paved surface of the National Park Tarmac will make it easier for them to deal with inclement conditions, should they occur.
The riders' bold offerings were not hard to believe, especially since each of the persons who will be performing tomorrow has been riding for at least 11 years.
Also, the fact that some of them have broken several bones during those years, suggests that they are indeed aware of what they would be getting themselves into if the decided to "go on with the show" if the rain falls. One rider said that during his more than decade long career, he has suffered bruises broken bones and concussions.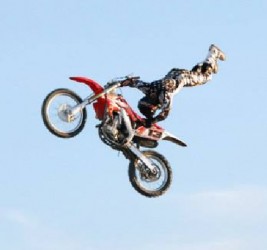 Nevertheless, the riders yesterday assured the Guyanese public that they have already gotten used to the bikes they will be using, as well as the ramps they will be traversing. Wheelie's, handstands, and backflips are just a few of the stunts that will be performed tomorrow, according to the bikers.
As a pre-event treat, the bikers will be traversing the streets of Georgetown today for the public to get a glimpse of what they can expect if they go to the event tomorrow.
In addition to these bikers, who all hail from the United States of America, local go-cart drivers, BMX stuntmen and rollerbladers will be featured on Sunday. The rollerbladers, in particular, according to Hits and Jams, will be jumping through flaming hoops.
During the press engagement, Hits and Jams took the opportunity to warn the Guyanese public not to attempt any of the stunts they will be seeing tomorrow.
Around the Web