Five years have passed since city businessman Farouk Kalamadeen was found beheaded and while the police investigation appears to have hit a dead end, his family remains hopeful that one day they will get answers and justice.
Kalamadeen, who lived at D'Aguiar's Park, Greater Georgetown and owned Jiffy Lubes, was found headless on April 30, 2008, several weeks after he mysteriously disappeared. His head was found near his business place located on North Road three days later.
Stabroek News was unable to make contact with the man's immediately family but his sister-in-law Bibi Shadick said that they have heard nothing since his death.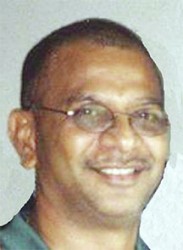 Shadick, who had spoken on behalf of the family back then, told Stabroek News recently that the police haven't been able to find any leads in the case. She said that all they know is that Kalamadeen died and his body was found in two parts.
While noting that her sister (Kalamadeen's wife) probably has not recovered from the ordeal, Shadick, a government MP, said that from all indications the police investigators have run out of options.
Asked if she and other relatives were surprised that nothing has come out of the case, Shadick said, "We are God-fearing people. We pray that God will deal with whoever did this." Meanwhile, several police officers have maintained that Kalamadeen's killing was not an ordinary one as the perpetrators went to the extreme of not only beheading him but dumping the head and the body at two separate locations.
One source said that the mere fact that the man's head was dumped so close to his business is a sign that those responsible wanted to send a message.
The source said that while investigators have their suspicions, they have no evidence to back them up. It was noted too that the investigation would not progress unless someone comes forward with some credible information that can crack the case open.
According to the source, from all indications the case has nowhere to go and the many questions outstanding may never be answered. Stabroek News was told that while many persons were pulled in for questioning, they all had to be released since there was no evidence to link them to the crime. Within the past few years, the source said no more arrests have been made and no more clues had been found.
Speaking on the sadistic nature of the crime, the source said that the beheading was the first such case in Guyana to the best of his knowledge. The source noted that this method of killing has been linked to organised crime and from that alone one can guess what might have happened.
Stabroek News was unable to reach acting police commissioner Leroy Brumell for comment on the investigation.
Back in 2009, Crime Chief Seelall Persaud had described the killing as a "message-sending incident" and he too said that people who do this sort killing are involved in organised crime. He indicated that there was nothing so far to charge anyone. Those questioned, according to him, where people suspected and sometimes known by the police to be or have been involved in organised crime.
The police's failure to get a breakthrough in this case may be an indication of their inability to effectively tackle organised crime.
Kalamadeen had disappeared after he reportedly left his home round 6 o'clock for his usual morning jog. Rumours had surfaced that the man was kidnapped and that his abductors were demanding a ransom, but his relatives denied that they were ever contacted and asked for such. His wife Nariman also denied reports that her husband had been abducted by foreigners with whom he had problems.
Shadick had revealed that during the man's disappearance, police had told relatives of a scenario in which a man had appeared at a city police station and had told them that he knew where Kalamadeen was being held and a $5M ransom was being demanded.
Eyewitnesses reportedly told police that Kalamadeen was picked up by men in a dark-coloured vehicle. However efforts to substantiate this were futile. His beheaded body appeared on Cowan Street, Kingston clad only in a pair of running shorts on the morning of April 30, 2008. There was no other visible wound, not even a scratch on the body, signalling that the man's head had been clinically severed. No blood was visible and when the body was removed by funeral parlour attendants his arms moved freely indicating that rigor mortis had not yet set in and that his death  had been recent.
Searches for the man's head began immediately but it was not found until three days later. It was spotted floating in the North Road canal, a stone's throw away from his Jiffy Lubes business. The man's head may have been dumped simultaneously with his body since residents in the area recalled seeing the strange object in the trench but said they did not pay keen attention to it.
Shadick had said then that she was not confident about a breakthrough in the case.
Around the Web