Jamaican dancehall artiste Mavado yesterday blamed the promoter of the Slingerz Summer Jam for his no-show at Saturday's concert at Providence and slammed the arrangements made including a 19-hour flight from Jamaica to Guyana in a cramped small plane with no bathroom.
"It like me flying inna casket feh come ah Guyana," the dancehall superstar known as the 'Gully God' told reporters at the Princess Hotel yesterday. Mavado was slated to appear alongside fellow Jamaican artiste Tommy Lee at the Slingerz Summer Jam at the Providence Stadium on Saturday night but failed to show.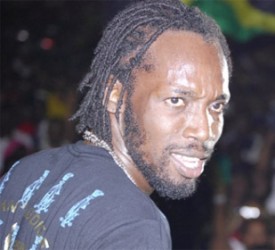 Yesterday, the dancehall star disclosed that "some powerful people" have stepped in and a concert is tentatively scheduled for tonight at a yet-to-be-determined venue. He declined to confirm when asked if the new promoter was the Hits and Jams organization which is in the midst of its Jamzone activities.
In recounting his journey to Guyana, Mavado said that initial arrangements via a commercial flight fell through and the promoters then said that they would send a "private jet." However, he said, it was just a small plane and when he saw the aircraft, he thought "Jah know" and had "so much doubt" but decided to come anyway because of his loyal Guyanese fans. He said that he was told that it was one of the planes used to take miners to the interior and to him it was like a "casket."
"The plane didn't even had a bathroom," Mavado said, noting that his wife and 14-member-crew were on board. The plane had to go to Curacao to refuel.
Mavado said that he heard that the promoter was broadcasting that he was afraid to go on stage but denied that this was the case. He said that just before the show ended, the promoter came to the Princess Hotel where he was staying and said the situation was "messed up."
"His excuse was like he had 10 to 15 minutes   before the show cut-off," he said. "I just don't understand the promoter and what they did." The dancehall star said that that was the only time he heard from the promoter and they still owe him half of his fee.
He said that according to his contract, his final payment is due when he lands in Guyana. However, he said that money is not the problem and "they could keep it."
He addressed reports that he was "scared" to go onstage and had refused to be at the same venue with Tommy Lee. "Why would I be scared to go on the stage? I live for that," he said. The artiste added that he had worked with Tommy Lee in St. Lucia previously.
The entire episode is disrespectful, he said. The artiste asserted that while he worked with the promoter before, he would not be working with them again. "I'm a superstar," he declared pointing out that he has been performing all over the world and the treatment he has received is different from what Slingerz has subjected him to.
Meantime, in apparent reference to a new promoter, Mavado said that with the help of "some powerful people in the country" they are trying to make his trip here worthwhile in terms of a new concert. They are trying hard to confirm the performance today, he said, adding that if it happens, he will pay for the first 500 fans. They will try to make the admittance fee to this concert one of the smallest, he said.
Around the Web