Education is not the sole purview of the professional educators.
This view was reiterated at the recently-held Linden/Region Ten Education Forum, held at Watooka House under the theme: "Linden/Region Ten Education, Crisis or Opportunity."  The one-day exercise, which attracted over fifty participants from different strata and sectors of the society, was intended to be the first in a series of initiatives in promoting community dialogue to arrive at proposals for a more holistic approach to education in the region.
The exercise was organised by the Linden Community Forum, an arm of the Linden Fund Trust with assistance from the Office of the Prime Minister, the National Industrial and Commercial Invest-ments Ltd., the Region Ten Democratic Council, the Linden municipality, and Banks DIH.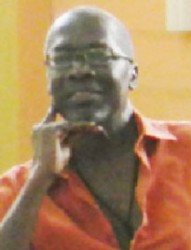 Chief coordinator of the Linden Fund Trust, Samuel Wright, who made a presentation on 'Schools as Centres of Environmental Excellence,' pointed to the need for an inclusive and democratic approach to education and the wider society. Wright, an environmental consultant, pointed to the different approaches to education that were used by the various presenters.
Jennifer Bourne, former Regional Education Officer for Region Ten, made a presentation entitled: 'The State of Regional Education,' in which she highlighted that in this complex world, it takes more than a good school, or a good home to educate children. According to her, it takes these two major educational institutions working together.
Bourne, who was recently transferred from Region Ten to Region Four, said the goal of the Ministry of Education is to ensure the system of education contributes to raising the standard of living in Guyana while the purpose is to improve the overall effectiveness of education. She further stated that the ministry's vision is for education to be the main and most effective contributor to the development of a citizenry that is able to modernise Guyana; to support the populace in becoming more productive and tolerant; and to live in mutual respect.
She also pointed out that the Ministry of Education has made it mandatory for all primary and secondary schools to implement 'after-school remedial classes' for underperforming pupils/students in the areas of English (including Reading) and Mathematics.
It was proposed that Parent-Teachers Associations be empowered through training and provision of resources to facilitate a greater role in the management of their respective schools. Another proposal was that a Community Education Resource Pool be developed to provide guidance and material support to single parent households.
Regional Chairman Sharma Solomon, who is also chairman of the Region Ten Education Committee, presented a regional perspective on education while the country's Chief Education Officer, Dr Olato Sam, provided the national perspective to open the Forum.
Other presentations were made by Dr Eric Phillips, Executive Director of the African Cultural Development Association (ACDA) and Pastor Selwyn Sills.
Some head teachers' perceptions of why there is poor performance in schools were highlighted. These included: more 'single-parent' homes in which pupils are unsupervised; poor nutrition – some parents cannot afford a healthy diet; over-exposure to television which takes away from students' reading and other learning activities; excessive playing with electronic gadgets; poor teacher performance and preparation – no extra zeal and lack of commitment; unpunctuality and absenteeism (from school and class); poor reading skills; poor parental support – a substantial number of parents do not assist students with homework or ensure that pupils do homework; unavailability of the relevant text books; public schools are overcrowded when compared to private schools; and in order to complete the syllabus, teachers focus on 'high flyers' while slow learners struggle.
Around the Web