Stunt bikers from the USA once again had crowds rising to their feet and gasping in disbelief as they flew through the air in gravity defying, eyeball popping moves at the National Park on Sunday night.
Amidst the growls of high horsepower engines and the acrid smell of smoke from burnt tyres, Bikers' Fest – this year a collaborative effort between Slingerz Family and Hits and Jams Entertainment – provided good family entertainment which exceeded expectations and scored highly.
Providing a range of events culminating with the bikers flying through the sky, the event aptly themed 'Magic in the Sky' saw performances by inline skaters, local BMX stunt riders, national cycle racers, mini-motard riders and ATV riders.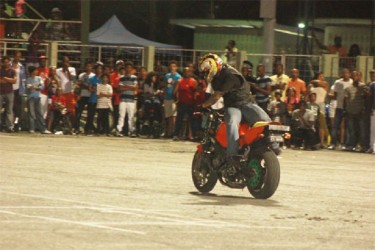 This year's Bikers' Fest saw some additions to the event's activities, such as slow wheelie race for local stunt bicyclists and a 'slow race' for local super bikers, which also included persons from Suriname who rode over for the event.
One of the highlights of the event was the return of granny, this time with her sister in tow. It was clear that from Sunday night's performance that granny received specialised training since she was able to perform death defying stunts which belied her four score and seven years.
While the big bike stunters were again impressive, conspicuously absent was Jakub Bruneil, the tattooed, braided, sprocket helmet-wearing wild man who lit up – and we mean that literally – the National Park with sparks from his bike in previous years. However the four riders who performed gave a good account of themselves with copious amounts of burnouts, drifts, circle wheelies, stoppies, and highchair wheelies. One rider performed a new trick – riding the bike while sitting facing the back of the bike and then somersaulting over the handlebars for a perfect landing.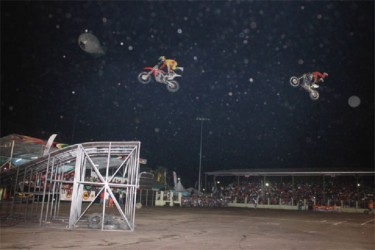 The event was a good one for children and there was plenty of entertainment for them with a number of child-riders performing impressively in some of the events. With members of the Guyana Police Force and Guyana Fire Service keeping crowd movement in check and with an ambulance on standby, the event was incident-free. (Johann Earle)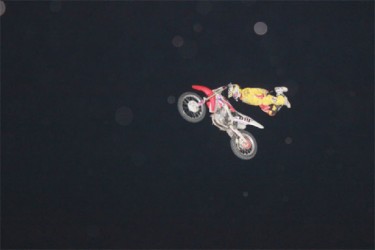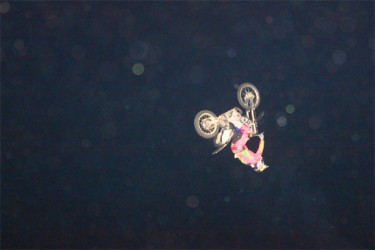 Around the Web