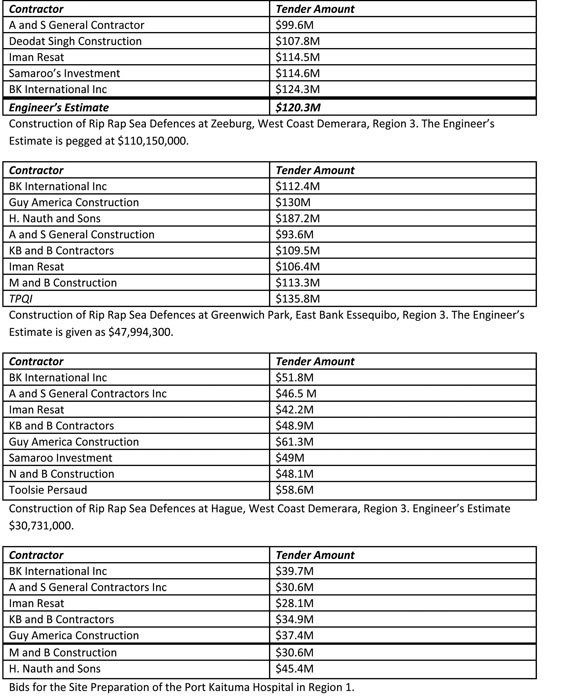 Bids were opened yesterday for sea defence works in several regions while the opening of bids for other projects was deferred.
The Ministry of Public Works has made amendments to a contract for rehabilitation works and construction of roads in Region 4, postponing the tender opening date to September 3rd to also allow for additional bidders.
At yesterday's tender opening session at the National Tender Procurement and Administration Board (NPTAB), contractors who bid were informed by a representative of the Ministry of Public Works that bids would not be opened because of late adjustments made.
"Due to the late discovery of scope changes we have extended the closing date of this bid…3rd September will be the new date and contractors may obtain the addendum from this Thursday from NPTAB," the representative said.
Ten companies had yesterday submitted bids for the project. Representatives from three companies, that were present and that were able to identify their tenders, collected the bids they had yesterday submitted.
Tenders for the construction of the Itaballi Primary School and provision of security services throughout Guyana were also postponed. These will be opened at next Tuesday's tender opening.
Bids for sea defence works in four communities were opened and are listed below.
Procurement of Slope Protection Works at Onderneeming, Essequibo Coast, Region 2.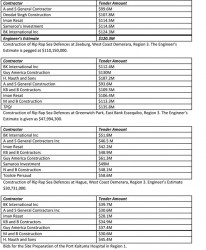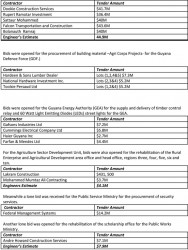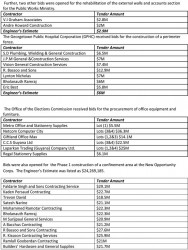 Around the Web