The body of 19-year-old Shevone Anthony, who was involved in a boat accident along the Barima River on Tuesday, was recovered yesterday.
Anthony went missing after the boat she and seven others were traveling in hit a log as it was making its way from Port Kaituma to Kumaka.  Captain of the boat, Leroy Caravio, 23 years-old, and his brother Troy, 22 years-old who assists him, were among passengers Diane Anthony, Kavita Anthony, Bernadine O Niel and Sunita Debudeen when tragedy struck.
The captain sustained head injuries and is now a patient of the Mabaruma Hospital but his relatives said that they are making arrangements for him to be transferred to the city because he is bleeding from his ears. His brother, who was the boyfriend of the dead teen, sustained a broken hand in the incident. The other persons suffered minor injuries and were treated and sent away.
Police had said in a release that about 1100h yesterday, Anthony's body was recovered in the Barima River and is presently at the Port Kaituma Mortuary.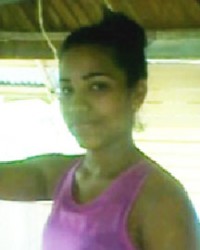 Stabroek News was unable to make contact with the family of Anthony but the sister of the brothers, Bissondai Singh, told Stabroek News that Anthony recently came back from Venezuela and was her brother's girlfriend.
She related that her brothers were in the speed boat business for the past three years. The woman stated that the trip from Kumaka to Port Kaituma takes about one hour and when the incident occurred she said her brother told her it was raining.
Singh said her sibling related to her that as per  normal he and the others put on protective clothing to shield them from the rain. It was while they were traveling the woman said her brother told her that he did not see the log floating in the water and as such the motor on the boat collided with it.
This damaged the bow of the boat and the captain lost control of the vessel which glided off the waterway and came to a halt in some bushes along the river bank. During the ordeal, the captain lost consciousness and was even thought to be dead.  Singh also said she learnt that when those on board checked the vessel, the nineteen year old was found to be missing.
Singh could not say how the teen fell overboard while the others remained in the vessel but suggested that she may have jumped in a bid for safety after the collision.
The crew was made to wait for about an hour before they were rescued by speed boats that were passing. They were then transported to the Mabaruma and Port Kaituma Hospitals for medical attention.
Around the Web