Former Attorney General and Minister of Legal Affairs Doodnauth Singh, SC, passed away last evening at the age of 80 at the Balwant Singh Hospital.
Singh served in the administration of former President Bharrat Jagdeo.
He had had heart bypass surgery several years ago and was very ill up to the time of his death.  He was also a former Chairman of the Guyana Elections Commission.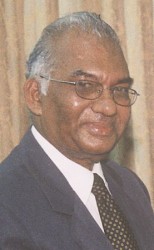 A statement from GINA last night said that President Donald Ramotar was saddened by the news of the passing of Singh.
The statement described Singh as "a man of high intellect, having amassed great experience during his legal life, both locally and internationally. He served Guyana with utmost distinction, pride and selflessness.
"He had given decades of service to Guyana, most in the legal profession, in which he was known as an outstanding legal luminary."
Speaking with Stabroek News last evening, Attorney General Anil Nandlall reflected on the life of the man who to him was like a father to the extent that he is fondly called by colleagues 'Lil Doodnauth or Doodnauth Jr.'
"Doodnauth Singh was many things to me. He was my father, my guru, my mentor, my former employer and was the person who presented my petition to have me admitted to the bar. To say I will miss him dearly cannot express how I feel when I got the news," he said.
Singh's wife Aisha, with whom he lived at their Forshaw Street, Queenstown residence up to the time of his demise, was too distraught to speak last evening. Scores of friends and relatives gathered at the home.  A relative told Stabroek News that none of Singh's  children lived in Guyana.
The Attorney General  noted that Singh practised as an attorney for over 50 years. He served at the Attorney General's office, then as the police lead advisor and went into private practice shortly after 1968.  He became one of the leading criminal lawyers in the country.
Singh's practice spanned the Caribbean, representing persons in many countries notably in 1990 as the Defence Attorney for Anisa Abu Bakr, wife of Yasin Abu Bakr,   in relation to the failed  coup d'état in Trinidad and Tobago. He was also part of the legal team that appeared in the trial for the murder of former Grenadian Prime Minister, Maurice Bishop. In addition he was a prosecutor under the Eugenia Charles administration in Dominica.
"His career was indeed a full and distinguished one and it suitably ended with him being appointed Attorney General and Minister of Legal Affairs of Guyana, a most fitting tribute to an outstanding career," Nandall asserted.
Nandlall said that Singh was the only parliamentarian, in his time that was not heckled whenever he rose to speak. "It is a privilege for me to have emulated him and be able to serve as Attorney General today. I always tell the young lawyers that they were denied the opportunity of seeing him at his best, which was in a courtroom…his loss to the bar is a tremendous blow and no doubt that he will be missed and always remembered," he said.
As Chairman of the Guy-ana Elections Commission (GECOM), Singh presided over the 1997 general elections and its aftermath. He had declared Mrs Janet Jagan as the winner without consulting with the opposition-appointed commissioners and then attended a secret swearing in ceremony which had been hastily organized  to deter a legal challenge. During the later public swearing in, he sat next to Mrs Jagan as she tossed a legal order over her shoulder. He had been criticized for his seeming approval of that act.
Singh would later become the leader of the bar in the 2001 administration of President  Jagdeo facing enormous challenges pertaining to backlogged cases, a shortage of judges and magistrates and with registries in a state of disarray.
One of the major programmes he presided over as Legal Affairs Minister was the IDB-funded justice sector reform.
The programme was intended to enhance the investment climate and rights enforcement in Guyana through improved public sector governance with the proposed implementation of three sub-components funded by an initial US$10,232,000 investment component, followed by a US$15M policy-based component.
Strengthening the accountability and administrative efficiency of service delivery in the justice sector, enhancing linkages and co-ordination within justice sector institutions and improving access to justice were the targets of the project.
The reform programme was expected to promote more efficient interaction among all justice institutions, particularly at the co-ordination and operational levels.
The judicial service commission was also slated for strengthening with the aim of improving governance, recruitment, human resource management and accountability of judges, magistrates and court staff.
Reducing the backlog and raising clearance rates in courts and strengthening court administration, enhancing skills and productivity of judges and magistrates were also selected targets for the reform programme.
The expansion of legal aid services, the development of public legal awareness, and support for informal justice were also matters to be addressed.
Towards the end of his career as attorney general there were verbal clashes between him and Jagdeo at Cabinet meetings. After leaving the administration he would later sue for his outstanding gratuity, a reflection of the strain that had developed between him and the administration.
He took his final bow in the National Assembly in early 2009.
"It was a privilege" he told members of the National Assembly in his final address, "I can't say it has always been a pleasure."
Then Speaker of the National Assembly Ralph Ramkarran had described Singh as a man "always on the side of justice" and noted his accomplishments as an attorney across the Caribbean. He praised him for his fearless representation of clients in an era when it invited unwelcome sanctions. "It is a fearlessness that has marked his character, then and now," Ramkarran had remarked, while noting that their first encounter was in 1973, when they represented 17 people, most of them political activists, charged with various criminal offences before the elections of that year. Among them was  PPP/C MP Indra Chandarpal.
PPP/C MP Clement Rohee said then that Singh would be greatly missed and he noted that the Assembly had benefited from his erudite contributions, while PNCR-1G leader Robert Corbin wished him well in his future pursuits. Corbin noted Singh's contributions to parliament, the legal profession and the country as a whole, adding that he had always respected their ability to exchange views despite being on different sides of the fence.
On that occasion, Singh urged the re-examination of the procedures and conduct of parliamentary debates. Recalling a recent motion calling for live broadcast of parliamentary sittings, Singh conjectured that if a poll were to be taken, it was likely to find that very few people would be interested in listening to debates. He said it was "unfortunate" and suggested that when the Standing Orders were reviewed,  the Assembly considers limiting the principal speaker to no more than half an hour to make a presentation, with no more than one extension of fifteen minutes maximum. He added that additional speakers should be restricted to half an hour. "Then perhaps the populace will listen to it on the radio or watch it on TV," he said.
Singh also said then he was sometimes disappointed that the people's business was not always debated in a "civilised and decent" atmosphere. He noted that while heckling was an art, it is not for transformation of the National Assembly into a fish market. "People must be conscious of what this National Assembly is," he declared, "It's the highest court of the land and it's where the people's business is to be debated."
Around the Web