Twenty-seven-year-old Shameeza Mohammed, who was allegedly stabbed nearly a dozen times by her reputed husband on Tuesday, said she is now fearful for her life after the man tried fooling guards to gain entry to the Georgetown Public Hospital.
Mohammed, of Lot 211 2nd Field, Cummings Lodge, told Stabroek News that since she has been hospitalised, the suspect has tried to see her several times in the hospital. "He went in here today and them guards see he and he disappear. Whole day he deh calling me sister and me family, telling them how he love me and he sorry and that that he gon drink poison. They give me the phone when he call this afternoon and he deh telling me how I lying that I deh in the hospital. He tell me how I deh with some man drinking somewhere," Mohammed told Stabroek News.
The injured woman is currently hospitalised with wounds to her breasts and stomach as well as chops to her face and hands and a black right eye.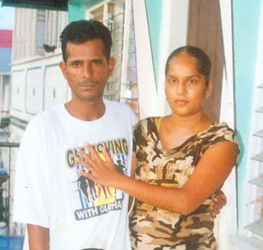 According to Mohammed, she wants the man to be jailed for his actions since she has no intentions of continuing their relationship. "He used to knock me and suh but I never believe that he woulda do this to me. I used to stay because of we three children and we would get we lil fight and so on but nothing like this," the woman said in tears.
Mohammed said that this it was not the first time that the man has physically abused her, but it would definitely be the last. "He de beat me up two weeks ago and the police beg for me to drop the matter and I drop it. Another time he de buss me head and I had to get five stitches and I go and I beg the police at Turkeyen Police Station and they tek $10,000 to done the story. I forgave him and tell them that me ain't want go to court anymore and they say that they had to get some money because I waste they time. So, I had to pay them the money, " she explained.
"Me ain't want nothing to do with he. I done with he. He do me enough things and he beat me enough. Before them children born, we used to live nice. Is since when I done get me three children them then he start change and drink steady. Every day he does deh drinking, before he eat he food he does got to drink two beers," she added.
She further said that since she has been hospitalised, the man has been constantly calling her family apologising for what he had done. "Since I deh in here, he deh calling them and saying how he sorry fuh wah he do and when I tek the phone and talk to he, he deh telling me how he love me and how he gon drink poison and kill he self."
'Final straw'
According to the woman, on Tuesday they had an argument and her landlord's daughter called the police and he was taken to the station and placed on $10,000 bail. "On the day we de arguing nuff nuff  and then me landlord daughter call the police and he was arrested and they place he on $10000 bail. He ain't spend an hour in there and they put he on bail," she said.
She recalled that she left the station in the company of the man and they proceeded to go home. "Me and he leff and we went home together and I call me mother and ask she if they can pay a car so I can come and stay by she because he ain't behaving nice. I talk to she and tell she that I coming with them children. After that, I left and I went and tell the two little ones to bathe so we can leave and I go and bathe and then I go in the bedroom to change off. I leff he on a bucket and I deh drying me skin and I bend down to search for an underwear and he dealt me one cuff to the back of me head," Mohammed recounted.
She stated that it was after the second blow that he started chopping her about her body. "After the other cuff he give me land straight to me right eye and I fall on the bed and then is when he start stabbing me up and I hold on to he hand and tell he, Anthony'  leff me alone and I hollering and he drop the knife and  run. I start hollering for the neighbours and one of them come and tek me to the hospital."
According to the woman, the two have been in a relationship for the past 14 years, since she was 13 and he was 29. "He tek me since I was 13 and he was 29.  He is the only man I ever had and look wah he do me," she said.
"Is more than one time and when he doing them thing in front the children them they does be hollering. Every time he drink he always bring up some issue and if I talk he start talking. I does try and defend myself but it don't be enough. He always accusing me of having some man. The next door neighbour had some man repairing she house and they had some young boy doing carpenter work and he don't want me outside and he don't want me talking to them or anybody. Everybody I see or talk to is me man. Is like I deh in a prison. He don't even want me talk to my family or go and see them," she added.
"He don't really want carry me anywhere. The furthest we does go is the seawall and I believe he does only want carry me there in case he want to do me something so no one can be around. The is how I does feel whenever he ask me to go on the seawall. The is how come I does always beg me landlord to come with me whenever we going so that if anything go happen I know he nah gon do she anything," she also said.
"If I got to testify, I gon testify against he. I gon show me family that I done with he for good. They used to always say that I hard ears because I used to go back to he. This is the final straw. I am done with him for good. I have to see my children grow up. I have to be there for them," Mohammed added.
Around the Web