A 13-year-old boy lost his life after he was struck down by a car on the No. 5 Village, West Coast Berbice public road yesterday.
Kenroy Reynolds, who was a resident of the village, appeared to have died on the spot. He was bleeding profusely from the gaping wound he sustained to his forehead in the accident.
Reynolds was on his way to the shop when the accident occurred at around 9:45am.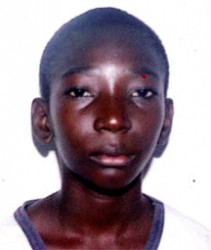 A cousin said the car, which was travelling from the direction of Rosignol, reportedly struck the child in the corner of the road after he had already crossed. The boy landed on the bonnet and when the car came to a halt he was flung towards the middle of the roadway.
Police said in a release though, that the driver of the car was proceeding along the roadway, when it is alleged that the child attempted to cross the road and was struck down. He was pronounced dead on arrival at the Fort Wellington Public Hospital.
The cousin said she was indoors when she heard the loud impact. Thinking that an animal was hit, she did not look out until she heard a relative shouting, "Dem man knock down the youth man."
In tears, she said a crowd was already at the scene and her cousin lay sprawled and his face covered with blood. She described him as a quiet and willing young man and said it was only yesterday [Thursday] that "I hugged my cousin." An uncle, Carlyle Stephney said he rushed to the scene and after seeing the boy's condition, he lost consciousness. He recalled that he was overcome with grief as memories of when his sister was struck down almost at the same spot 10 years ago, came flashing back to him.
Reynolds was a student of the Fort Wellington Secondary School and would have entered second form in the upcoming school year.
Around the Web