Quick action by workers of the National Drainage and Irrigation Authority (NDIA) prevented flooding at Friendship, East Bank Demerara after the koker suffered damage during high tides.  Head of the NDIA Lionel Wordsworth told Stabroek News yesterday that they were successful in putting on a temporary "stop log" in place after the guiding strips of the old koker door broke several days ago.
"We have been successful in installing a temporary stop log last evening. We were able to quickly mobilise equipment and we will be reconstructing a new door between this week and the next.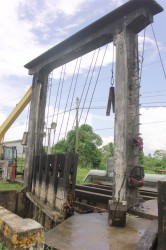 Due to our prompt response we were able to control the flow of water upstream of the channel before the high tide this morning (yesterday)," he said.
Wordsworth said that the door broke during a high tide and there were no reports of flooding.
Around the Web