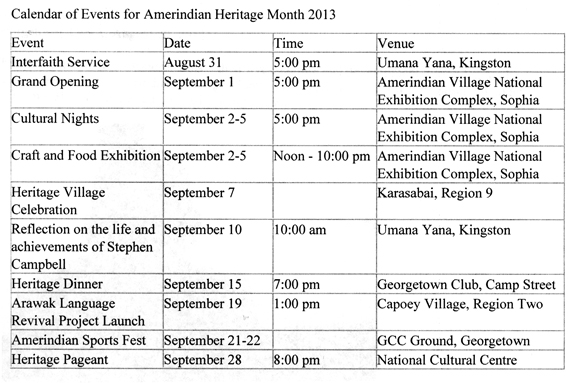 A project to teach the Arawak language to children in the hopes of ensuring that it remains a living language spoken by the next generation of Amerindian people is among the activities planned for Amerindian Heritage Month 2013.
The project is reflective of the Heritage Month theme, which is 'Honouring our Culture – Advancing our Future.'
A release from the Government Information Agency (GINA) disclosed that the Arawak Language Revival Project will be launched at Capoey, Village, in Region Two to teach the language to children between the ages of four and 10 years, over a 10-month period to rekindle an appreciation for the ancestral language so that it would remain a living language spoken by the next generation.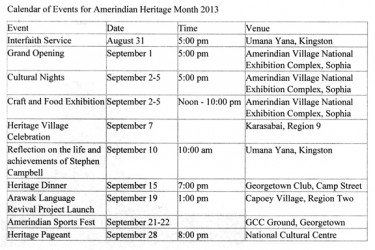 The events scheduled by the Ministry of Amerindian Affairs to highlight the lives, culture and development of Amerindians, will be ushered in on August 31 by an inter-faith service at the Umana Yana, at Kingston.  On September 1, the grand opening ceremony will be held at the Amerindian Village, National Exhibition Complex, at Sophia with planned addresses by President Donald Ramotar and Minister of Amerindian Affairs Pauline Sukhai.
From September 2-5 at the Amerindian Village, there will be cultural nights with shows featuring Amerindian talent including groups from Surama, Karadaranau, Sand Creek, Mainstay and Kwebanna.
Also from September 2-5, there will be craft and food exhibitions and sales held at the Sophia Complex, where patrons will have the opportunity to view and purchase art, handicraft, food and beverages made by indigenous people.
Karasabai, in Region Nine has been designated Heritage Village 2013 and the celebrations will centre at that location on September 7. Visitors will have the opportunity to experience aspects of Macushi culture.
A reflection on the life and achievements of Stephen Campbell will be held at the Umana Yana, Kingston on September 10. The day is significant as it was on September 10, 1957 that Campbell became the first Amerindian Parliamentarian.
A fundraising Heritage dinner will be hosted at the Georgetown Club on September 15 with the proceeds going towards assisting Amerindians seeking medical attention.
On September 21-22, the Heritage sports will be held at the GCC Ground, Georgetown where Amerindians from the different regions will compete.
The month will close with a Heritage pageant on September 28 at the National Cultural Centre featuring contestants from all ten regions.
Around the Web