A wedding celebration at No 4 Settlement, Blairmont, West Bank Berbice ended abruptly around 2 pm yesterday when it was learnt that the home of the bride's grandparents was on fire a short distance away.
Kerry Dalana, 60, and his wife, Shiroon Dalana, 59, were living in the two-flat four-bedroom house with their two grandchildren, Faheem, 13, and Faneeza, 16.
The entire top flat of the house was destroyed along with furnishings, electronics and appliances.
Dalana said from the wedding house they saw the thick smoke billowing. He suspects that the fire was electrical in origin.
The bottom flat which was attached to the back of a grocery that they operate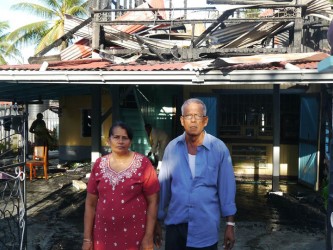 was barely scorched. But most of the items including, a refrigerator, freezer and television set as well as items in the shop were water-soaked during the fire-fighting efforts.
The Blairmont fire tender responded within half hour and doused the building. The tender from the Onverwagt station also later joined the fight.
Fire-fighters also had to direct their attention to a house next door that had already started to burn. The owner of that house, realizing that it was under threat, had already moved most of her furnishings before it was doused.
Dalana's sister along with two brothers and their wives who travelled from the United States last Thursday for the wedding were also staying at the house at the time of the fire. Most of their personal items were destroyed in the blaze.
His sister-in-law, Drupattie Ramsundar, 51, called 'Sandra,' an American citizen was mostly distressed because she lost her passport and ticket along with cash. Her main concern was that her documents are replaced so she can travel back home.
Dalana's brother, Ruben Dalana, who is also from the US, told this newspaper that "this is a disaster" and that he was saddened at the devastation of his brother's house.
He said it was even worse that the wedding was in progress. He said the tragic incident would remain in their memory for a long time.
His wife, Bibi Dalana said they were planning for the wedding since the beginning of the year and they were having a good time until they received the sad news. "It's unbelievable; nobody wants this."
A relative who lives nearby said she was in her yard sweeping when she saw the smoke coming from the house. She immediately started to "tremble" and she "holler" for a young man to take the message to the wedding house.
Neighbours said shortly after the fire started they heard loud explosions coming from the building.
During this newspaper's visit, relatives were busy helping the couple to clean up the debris.
Around the Web