Students attending the University of Guyana (UG) Turkeyen Campus for the academic year 2013/2014 were on Friday encouraged to challenge the university but asked to stop saying negative things about the institution on social media.
This was the message delivered by UG Vice-Chancellor Professor Jacob Opadeyi, during his address to the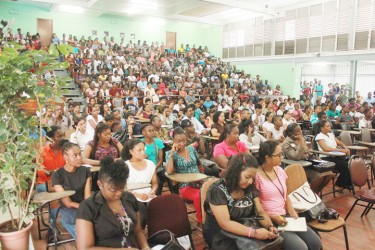 students and staff that filled the George Walcott Lecture Theatre at the ceremonial opening for the academic year.
Opadeyi told students that they should not "bad talk UG on Facebook" because their comments are seen by everyone around the world. He added that there is nothing that goes on at UG that does not go on at other universities around the world.
Students were also asked to challenge the university and if "things are not going good" to inform the relevant body of the institution in such instances. Opadeyi also said that if things are going well at UG, students should share that information with others.
He also emphasised the importance of students passing with distinction in their respective field of study. He told the gathering that the grading system of A, B and C is used to decide "who will work at KFC…."
He further noted that a good degree is nice but a sound degree in knowledge is what matters.
Meanwhile, delivering the featured address at the event was President of the Georgetown Chamber of Commerce and Industry (GCCI) Clinton Urling, who said the number of problems affecting UG should not hinder the students' ability to perform. He also encouraged students not to settle for mediocrity while adding that the formula for success is "hard work."
Urling also told students that there will be a point where they will question the rationale for attending UG but they should not "give up." He added that a degree from the university "has merit anywhere in the world" and that analytical and critical skills are necessary.
Around the Web