A twenty-three-year-old mother of two and a six-week-old baby died after an accident on the Linden-Soesdyke Highway yesterday.
Anastasia Cole of Ituni was pronounced dead on arrival at the Linden Hospital Complex after the vehicle she was travelling in landed in the Kairuni Creek and was partially submerged. Cole's death is suspected to have been caused by drowning. The body of the baby, Taqayah Shepherd, was subsequently discovered by police and taken  to the Linden Hospital Complex. The baby's parents, Seon Shepherd and Tinesha Victor, who were also in the bus when it veered into the creek, were both admitted to the hospital with lacerations to several parts of their bodies.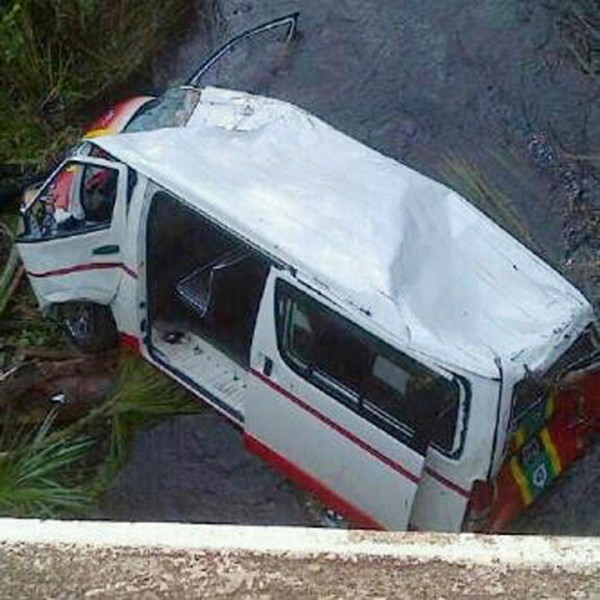 Speaking to Stabroek News last evening, Michelle Jackman, the baby's aunt, said that she did not get any information on where her niece's body was found from the police officers who brought the body to the hospital.
Persons, who arrived at the scene of the accident had said that the body of the baby had been seen floating away from the partly submerged bus.
It has been reported that the driver of the ill-fated bus, Joel Chapman better known as 'Cutty' was rushed to the Georgetown Hospital for medical attention.
Chapman was driving BRR6612 towards George-town when he reportedly overtook a sedan, PKK9852. However, because of oncoming traffic he tried to get back into his lane and collided with the motor car. He then lost control of the bus which landed in the creek on its side.
Among the injured are Dr. Walter Kyte, who flew in from New York on the previous day to facilitate in the Linden Fund USA three-day teachers workshop, which was scheduled to begin this morning at LICHAS, Linden. Up to press time, Dr. Kyte, who suffered lacerations to his forehead and had been x-rayed, was under medical observation at the Mackenzie Hospital Complex. He was complaining of experiencing difficulty in breathing.
Dr, Kyte did not receive his luggage on arrival in the country and he was travelling to Georgetown to collect it from his brother, who had uplifted it earlier in the day.
Around the Web