A Better Hope mother of six died at the Georgetown Public Hospital Corporation (GPHC) on Saturday morning and her family is saying that her death could have been prevented had the hospital staff attended to her in a timely manner.
Samantha Cummings, 37, of Lot 96 South Better Hope, died on August 24, after complaining of a high fever and numbness in her foot.
Her relatives are now accusing the staff of the hospital of negligence, saying that if they had shown some sort of concern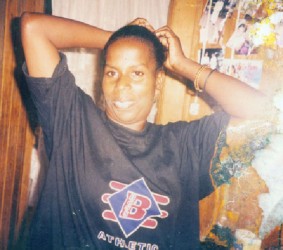 she would have been alive. "We kept beggin' and pleading with a nurse but to no avail… the nurse seh is nah we gat to look she, is de doctor and they ignored us and left her in pain," her sister Cindy Cumming recounted to Stabroek News.
GPHC's Public Relations Officer Mitzy Campbell, when contacted, said that the hospital was aware of the complaint and was checking into the allegations.
However, a hospital source said that the woman had died because of an adverse reaction to the pain medicine Diclofenac. The source said that this information was relayed to the relatives and the institution is surprised that they would now claim negligence, especially since an autopsy had not yet been completed.
Cummings' relatives said that the autopsy will be performed tomorrow.
Cindy Cummings said that her sister had been complaining of a high fever three days prior to her demise. She said that the family believed that it was just "a common fever".
She recalled that around 3am Saturday, Samantha called her and told her that she was not feeling her feet from her knees down and that she had a fever.
According to the woman, she rushed her sister to the GPHC around 4am and took her to the Accident and Emergency Unit. She said that she told a nurse what was happening to her sister, and she was told to let her sister sit in a corner and wait.
She said that the place had no more than 10 persons and she kept pleading with the nurse to take a look at her sister. "I kept going to her and telling her that my sister's hand was turning blue and she rolled her eyes and told me to hold on because there were two other patients and then she…and she gon call us just now, let we go and sit down," she said.
She said they sat and waited all while her sister writhed in pain and subsequently began vomiting.
She called to the nurse, who she said raised her head, sucked her teeth and continued writing. "I had to tell the nurse, 'You don't have a heart' and asked her if she get a sister… the woman tell me, 'What that gat to do with anything?' And she kept on writing and ignored us," she added.
At around 7am, the doctor came and the nurse told her to "put she on duh bed with the black thing… there was no one to help us lift her but two kind fellas help us lift her and she began vomiting again and started stretching off when the doctor finally came to see her," Cummings said.
She added that the doctor told her to wait outside and 15 minutes after she went to peep at the door and realized that her sister had died. "Neither the doctor or nurse came and told us anything. I had to go and ask what happening and then they told me" she added.
She is calling on the GPHC to launch an investigation even as the family yesterday formally made a report at the complaints desk at the hospital.
She said that while she doesn't expect much to be done, she hopes that hospital management looks into the attitudes of their medical personnel and put measures in place for patients to be treated better.
Samantha Cummings, whose children are between the ages of 4 and 17 years, was described as a loving and hardworking woman.
Around the Web