The Anna Regina Town Council's IMC last week teamed up with the Region Two Administration and the business community to host a three-day Town Day where they reflected on achievements in education and committed to making improvements.
Prime Minister Samuel Hinds who spoke on behalf of President Donald Ramotar, toasted the event as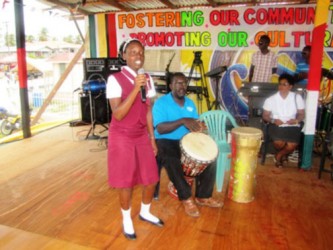 timely and significant even as Anna Regina celebrated its 23rd anniversary as a township.
At the inaugural event held on the lawns of the Anna Regina Town Hall, Hinds charged residents to reflect on the improvements that occurred over the last two decades in the region and emulate them, a report from GINA said.
The region has much more to celebrate this year, particularly the township as it produced top students at the Caribbean Secondary Examinations Certificate for two consecutive years.
This year, Zimeena Azealia Rasheed secured passes in 20 subjects and Yogeeta Persaud gained the second position with 18 Grade Ones. Both of them attended the Anna Regina secondary school. Last year, Abram Zuil Secondary's Sarah Hack won the Caribbean's top CSEC spot having achieved 16 grade ones.
The prime minister extended felicitations to the top performers and urged them to give back even as they move on. He also commended the teachers, the parents and the regional administration for the work they have been doing in the education sector, and encouraged them to further improve the performance.
Meanwhile, Minister within the Ministry of Local Government and Regional Development, Norman Whittaker said that the people should use events such as these not just to a showcase what they have to offer, but also their achievements and to provide opportunities for further investments. The region has over 20 historical sites which the minister said the regional administration should seek ways in which to generate interest and encourage tourism.
Regional Chairman, Parmanand Persaud said "Education is a hallmark for the regional administration" and lauded efforts made in the sector in his region. He pledged that the regional administration will continue to assist and make representation at the national level to advance the region's health, education, security, water, electricity and infrastructure.
GINA said the three-day event featured activities such as a cultural show, a street lime, an exhibition, Anna Regina Town Queen Pageant, street football, domino competitions, and interaction with the public on development of the township, visits to historical sites and a social evening. It was held under the theme '"Fostering our community relationship, promoting our cultural history.'
Around the Web