The recently-opened Gravity Lounge may be turning into the place to be but patrons last weekend found out that getting in was easier than getting out.
Early Saturday morning a crowd thronged the lone elevator being used as both entrance and exit and many voiced fears about what would happen in the event of an emergency requiring evacuation.
The club's management says another elevator will be installed to ease the long wait and congestion at the exit of the nightspot,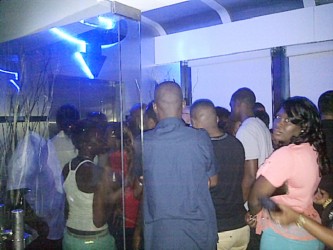 which is located on the sixth floor of the United Centre Mall, at Regent and Camp streets.
There is one elevator to the club which is used both for entry and exit and while it has a concrete stairway it was locked. Also on Friday night, the lit sign which notifies patrons of its existence was off, causing many to believe that there was none.
"We have already purchased another elevator, which will be here soon… we understand the complaints but on Friday we didn't anticipate that so many people would have wanted to leave at the same time,"  said Managing Director of the nightclub Clairmonte Cummings, who assured that the business has adhered to both fire and city codes.
Fire Chief Marlon Gentle told Stabroek News that he was unaware of the nightclub's existence and that since the opening of the mall his department had not visited to inspect safety mechanisms but would do so shortly. He did, however, disclose that earlier this year there were visits and there was no building code violation.
Around 2am last Saturday, many patrons rushed to the elevator to exit the club. However, with the congestion many of them soon became angry and some hurled expletives at security personnel who tried to get patrons to exit in an orderly way.
The elevator operator cautioned persons in the crowd that only eight persons were allowed at a time to exit and thus they had to form a line. Some persons, who were clearly already drunk, began verbally abusing the security as they questioned the rationale of having a nightclub on the sixth floor with only one working entrance and exit.
On Saturday, while management was able to restore order as persons were from very early notified that they were to line up, there was still a long waiting time and  the large buildup added to the myriad complaints received.
"This is unbelievable. This place is so fancy inside you can't complain of the service but now we ready to leave it's a disaster…God forbid that there should be a fire here…" one patron said, Cummings said while he understands the concerns raised, he wanted the public to know that there was a stairway escape.
He took Stabroek News on a tour of the facility and explained that he had instructed that the emergency stairway exit lights be on at all times so that patrons could be notified where it was should there be need for use.
Further, he explained that as the club anticipates a larger crowd this Christmas season, there will be emphasis on alerting customers on what to do should there be an emergency. In addition, there will be upgrades to its current measures, including additional fire extinguishers and sand buckets and glow in the dark signs directing patrons to exits.
In addition, another elevator will be placed facing Regent Street and will be then used only as an exit. "We are very cognisant of our customers' safety and that's why we did everything according to the city's and the fire service's building codes. We welcome ideas by our patrons on how to deliver a better service as we know our existence is only because of them," he added.
Around the Web