Waste disposal bins were yesterday handed over to representatives of 15 NDCs in Region Four by Minister in the Ministry of Local Government Norman Whittaker, at the ministry.
A release from the Government Information Agency said that the bins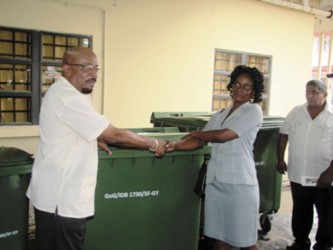 with volumes of 240,660 and 11,000 cubic-metres are for specific identified public spaces including schools and hospitals.
"This is just another phase, another step, another part of our effort to bring improvement to the way, we deal with solid waste collection and disposal in Region Four,"  Whittaker said.
He said that the ministry's effort on solid waste disposal has not been limited to Region Four, and that the ministry has been looking at addressing the matter in the other regions.
He adverted to the solid waste contracts between the Regional Democratic Coun-cils and solid waste contractors in the regions outside of Region Four.
Around the Web