The Ministry of Public Works is refuting claims that it offered some residents of Timehri North compensation or a transportation allowance for their relocation at a meeting that was held on Wednesday.
"At no time did Minister (Robeson) Benn announce a $1.5M compensation package or a $10,000 transportation fee for their relocation," the ministry said in a release yesterday, while noting that residents who were in attendance can attest to this and both video and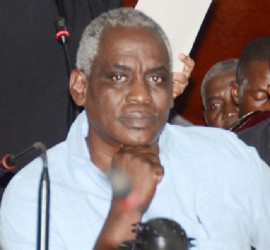 audio recordings are also available.
Public Relations Officer of the Timehri North Citizens Development Committee (TNCDC) Sherlanda Daniels had told Stabroek News on Wednesday that she was told by one of the residents, who attended the meeting, that they will be given $1.5M for their land and $10,000 to assist with transportation for relocation.
Residents had protested the calling of the meeting by Benn, to which only some residents were allowed to attend.
The ministry has since said that the meeting "catered for those squatters who are living in a  key zone needed for the first phase of the airport expansion and the Minister of Public Works Robeson Benn informed them of their relocation options, including Yarrowkabra."
Representatives from the TNCDC had also told this newspaper that they wanted to meet with Minister of Housing Irfaan Ali to discuss the issue and not Benn.
The ministry noted that officials from the Housing Ministry were present at Wednesday's meeting to guide those who never applied for a house lot on the procedure and pledged to fast track those applications already in the system.
Around the Web