A businessman was yesterday refused bail and remanded to prison after being charged with conspiring to defraud a bank of $75M.
The charges read by Magistrate Faith McGusty to Neville Spencer, 41, stated that during the month of September, 2010, with intent to defraud $75,000,000 from the Guyana Bank for Trade and Industry (GBTI), he knowingly signed 20 bank cheques knowing them to be false. Spencer, of Lot 108 West Ruimveldt Housing Scheme,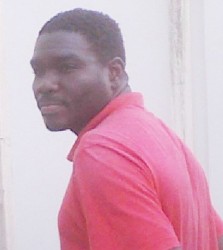 was not required to plead to the charge when he appeared at the Georgetown Magistrates' Court.
Attorney Paul Fung-A-Fat, who represented Spencer, said that he is a wholesale and retail businessman and that he was conned by his business partner into signing the cheques.
He added that the act is not a prevalent one and that since Spencer was completely ignorant as to what was going on, he did not receive any money.
However, prosecutor Seon Blackman objected to bail based on the seriousness of the offence and the amount of money involved.
Blackman, who noted that such a felony attracts a serious penalty, pointed out to the court that Spencer was on the run from police.
He said police issued an arrest warrant for him at the time of the offence and couldn't find him. He added that Spencer was only arrested recently at Soesdyke/Linden Highway.
In response to Blackman's claim, Fung-A-Fat said that an arrest warrant was only issued for Spencer two weeks ago.
After weighing the arguments, the magistrate refused bail and adjourned the case until September 6.
Around the Web