The Guyana Elections Commission (Gecom) yesterday announced that it will run off a new cycle of Continuous Registration, running from Monday, September 2nd, 2013 to November 23rd, 2013.
Anyone who will be 14 years or older by December 31st, 2013, and is a Guyanese citizen by birth, descent, naturalisation, or is a citizen from a Commonwealth country living in Guyana for one year or more, is eligible for registration during the exercise,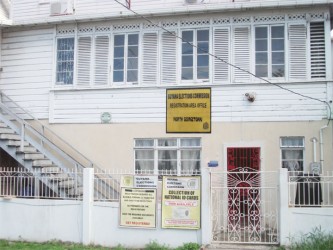 Gecom said in a media release yesterday.
The new exercise is the fifth such process since continuous registration was introduced.
Gecom advised that persons who are eligible for registration visit the Registration Office that is responsible for their areas of residence to apply for registration or uplift National ID cards that may not have been collected after previous registration.
There are 28 permanent Registration Offices located in all of the 10 Administrative Regions, which will be open Monday to Friday, from 9am to 1pm and 2:30pm to 6pm and on Saturdays from 10am to 2pm. They are:
Region 1
·         Mabaruma Registration Office
·         Port Kaituma Registration Office
·         Moruka Registration Office
 Region 2
·         Charity Registration Office
·         Anna Regina Registration Office
 Region 3
·         Parika Registration Office
·         Pouderoyen Registration Office
 Region 4
·         Diamond Registration Office, Area 'M' Diamond
·     Soesdyke Registration Office, Soesdyke NDC Office
·        South Georgetown Registration Office
Action Tyre Building, Croal & Smyth Streets
·         North Georgetown Registration Office
Former Prime Time Building, Church St., Georgetown
·         Transfiguration Church (Annex) Mandela Avenue
·  Sheriff and William Streets Registration Office
·         Coldingen Registration Office
·         Better Hope Community Centre
 Region 5
·         Mahaicony Registration Office
·         Fort Wellington Registration Office
 Region 6
·         New Amsterdam Registration Office
Kaitano Building, Princess Elizebeth Rd, New Amsterdam
·         Kildonan Registration Office
·         Corriverton Registration Office
 Region 7
.         Bartica Registration Office
.         Kamarang Registration Office
 Region 8
·         Mahdia Registration Office
·         Paramakatoi Registration Office
 Region 9
·         Annai Registration Office
·         Lethem Registration Office
 Region 10
·         McKenzie Registration Office
·         Wismar Registration Office
According to Gecom, persons eligible to be registered must be in possession an original birth certificate issued by the General Register Office or a valid Guyana passport; an original marriage certificate (and original birth certificate), in the case of a name change by way of marriage; an original deed poll and original birth certificate, in the case of any change of name by deed poll; or an original naturalisation certificate issued by the Ministry of Home Affairs and original birth certificate or valid passport, in the case of naturalisation.
Gecom noted that baptismal certificates, expired passports, photocopies of relevant documents or letters from Priests, Elders, Head Masters, Village Captains/Toshaos and Justices of the Peace, existing ID Cards or evidence of an application having been made for naturalisation will not be accepted as source documents for registration.
It advised that all persons who will be eligible for registration but are not in possession of the relevant supporting documentation take immediate steps to acquire the necessary documents in order to facilitate their registration during the registration exercise.
In addition, Gecom stated that persons who were already registered could, if necessary, apply for a name change in the case of the change of name(s) by marriage or deed poll, since they were registered; apply for correction(s), if there is incorrect information on their National ID cards; request that their photographs be retaken, if the quality of the photograph on their ID cards is unacceptable; or collect their new ID cards if they have not done so as yet.
Gecom also reminded that it is the civic duty and legal responsibility of all Guyanese who will who meet the eligibility requirements to apply for registration during the new cycle of continuous registration. "By so doing, they would be ensuring that they are included on the official lists of electors for future elections, if they meet the other eligibility criteria, apart from being issued with National ID cards," it said.
Gecom further noted that Section 6 of the National Registration Act makes it obligatory for persons who meet the registration criteria to apply for registration.
It warned that persons eligible for registration could be prosecuted, fined or even sent to prison for failing or refusing to apply for registration. "In this regard, it must be noted that it is the responsibility of parents/guardians to ensure that the eligible children in their charge apply for registration," it added.
Around the Web