Thirteen police and customs officers underwent training over the previous five days in how to detect fraudulent documents at ports of entry, among other areas, in a drive to tighten security.
The five-day International Passenger Interdiction Training (IPIT) Programme was a United States/Guyana partnership, under the Caribbean Basin Security Initiative (CBSI). The aim of CBSI is to have ongoing security cooperation in the Caribbean.
A release from the US Embassy yesterday stated that nine police officers, three Customs and Anti-Narcotic officers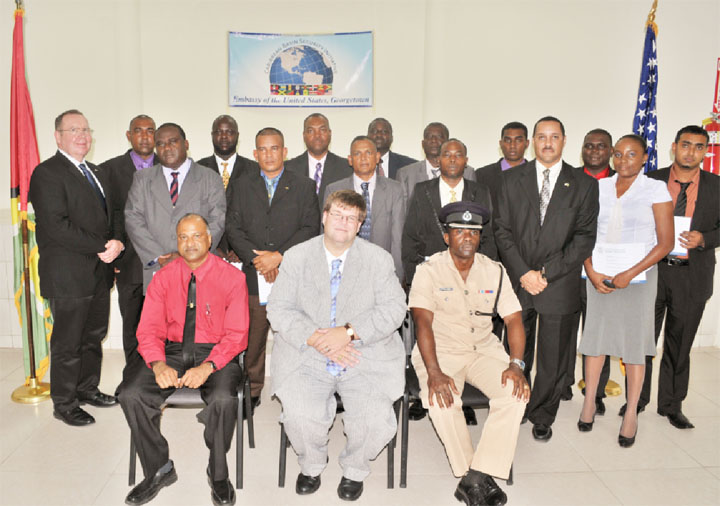 and a representative of the Guyana Revenue Authority took part in the training programme at the Police Training Centre, Camp and Young streets. It concluded yesterday with a closing ceremony, during which the participants were given certificates.
According to the release, two officials of the US Customs and Border Protection (CBP) agency led the course, which shared best practices on processing passengers at ports of entry and practical exercises at airports. Participants were also exposed to training on fraudulent documents, passenger targeting and analysis, interviewing techniques, smuggling and luggage examination.
Officials from the Cheddi Jagan International Airport, Timehri, Guyana Civil Aviation Authority and Caribbean Airlines also facilitated practical training at the airport as part of the course.
U.S Embassy Charge d'Affaires Bryan Hunt in his address during the closing ceremony said that in the four years since the CBSI partnership was formed, "we have made considerable progress on a host of problem areas, from illegal narcotics trafficking to maintaining public security." He added that the programmes that have been created to address these problems have been developed through close collaboration between both governments with one overarching goal – enhancing citizen security in Guyana and the Caribbean.
Hunt said that the just-concluded course builds upon those collaborative efforts by helping to strengthen the capacity of airport security personnel to detect and prevent illegal activity while still facilitating legitimate trade and travel. "As you know, airports are a key line of defence against terrorists as well as drug and human smugglers. But maintaining the integrity of this defence requires staying one step ahead of criminals," he said, adding that the course shared best practices and demonstrated practical approaches in areas such as behaviour analysis and interviewing, observational techniques, analysing travel documents, passenger selectivity, examining luggage and detecting imposters.
The training course, he added, followed on other ongoing collaborative efforts on border security, which include, the U.S. Coast Guard's International Port Security Program, which has been working with the Guyana Maritime Admin-istration and private-sector stakeholders to increase port security in Guyana for the past nine years and the U.S. Transportation Security Administration, which regularly works with airport and aviation officials in Guyana to improve security at Cheddi Jagan International Airport and at Ogle International Airport. He also referred to the joint United Nations Office on Drugs and Crime-World Customs Organisation (WCO) Container Control Program (CCP) which works to prevent the illegal use of sea containers in drug trafficking and transnational organised criminal activities.
Compared to the other countries that the US works with in the CBSI, Hunt said that the experts believe that Guyana had one of the "better security regimes in the region." "Overall Guyana does a very credible job. Compared to the region what my experts tell me is that your force is comparatively trained.
They do a reasonable good job within the resource constraints that they have. So we continue to work with them to refine those procedures," he added.
According to Hunt, it has been found that the ranks who are trained are "generally receptive" and the new procedures that are recommended are implemented. "We are quite pleased with the pace of progress that we have been able to make in working with them… there are lots that can still be done," he said.
According to Crime Chief Seelall Persaud, the cooperation between the Guyana Police Force and the US, particularly the local embassy, is one that is valued immensely. He said that at the Ministry of Home Affairs there is a monitoring mechanism and there are quarterly meetings to review progress made under the CBSI.
He said that shortly a vessel will be delivered under this initiative to enhance maritime operations.
Work is also being done on a fingerprint information sharing project where Guyana stands to benefit from some advanced fingerprint information systems.
John Bull, one of the US Customs and Border Patrol members, charged the participants to share what they have learnt during the training with their colleagues.
Around the Web