The renovation of the Georgetown Magistrates' Court Complex, ongoing for more than two years, is scheduled to be completed within a few days, Minister of legal Affairs Anil Nandlall has said.
According to the Government Information Agency (GINA), the timeframe for the completion of the works is based on information provided by the contractor.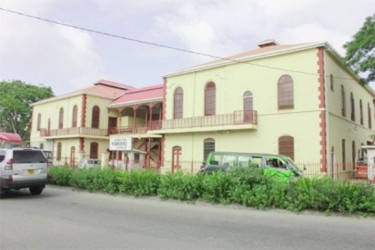 Since the start of the repair works, courts 1, 2, 3, 5, 8 and 9 have been housed at the former Globe Trust offices on Middle Street and there have been frequent complaints about the cramped conditions and discomfort experienced in the small courtrooms.
GINA said the rehabilitated facility is expected to house 12 courts, each having offices for the magistrates, along with washroom facilities. The building will also house the office of the Clerk of the Georgetown Magisterial District and support staff, along with a facility to accommodate prisoners.
It added that the new building will be fully air-conditioned and will have two parking facilities on the northern side of the building, on Croal Street, as well as on the southern side on Brickdam.
GINA noted that the rehabilitation of the complex was an initiative under the Modernisation of the Justice Administration Project, through which the physical and infrastructural institutional capacity of the Justice Sector was improved. Under this component of the project, it said new Courts have been constructed in Springlands, Whim, Canje, New Amsterdam, Sisters Village, Fort Wellington, Wales, Wismar, and Lethem, among other areas. It added that renovations have also been done to almost every court building in the country, including the Court of Appeal and the High Court's Complexes of Berbice and Demerara.
Around the Web