The main opposition APNU yesterday sounded a warning over youth unemployment, saying that the country is sitting on a "time bomb" and charging that the government's delay in dealing with the "jobs crisis" could have dire consequences.
At a news conference yesterday morning, APNU leader David Grangers said that despite educational initiatives launched by government, a large portion of Guyanese youth are "not in employment, not in education, and not in training."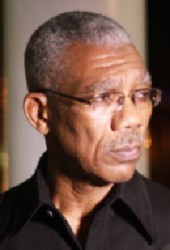 In fact, Granger cited an International Labour Organisation (ILO) National Unemployment Report—based on Guyana's Household Income and Expenditure Survey undertaken over a decade ago—that estimated that about 44% of Guyana's working age population are "not economically active," with the majority of them being the youth.
This reality, he told reporters, is "owing to the fact that school-leavers are inexperienced and have a long wait before they find their first job."
This ILO figure is a far cry from the approximately 12% unemployment rate declared by government, but Granger said that the government's statistics do not present the reality of unemployment in Guyana since the formula used to calculate the social phenomena only considers individuals of working age who are actively seeking a job.
If persons of the requisite age who are not actively seeking jobs are added to the equation, Granger argued, the number becomes much higher than what is being purported by the government.
Reasons which influence working-age individual to not seek out jobs can vary from disinterest to disillusionment after several disappointments.
Granger, who voiced his concern for youths particularly from regions 1, 7, 8 and 9, also cited a report from the Caricom Commission on Youth Development, "Eye on the Future:  Invest in Youth Now for the Community Tomorrow," which noted that the primary education drop-out rate was at a "staggering height." The report further stated that joblessness among young people in the Caribbean Community was 23%, a figure much higher than many other developed and developing countries alike.
Director of Prisons, in a statement last year said that 75% of inmates were young people. More recently, a review conducted by the Home Affairs Ministry found that unemployed males, between the ages of 18 and 25, were the main perpetrators of the crimes committed in July in the city.
Granger acknowledged several initiatives launched by government to combat the situation but dismissed them as Band-Aid solutions.
"Five government ministries – the Ministry of Amerindian Affairs; the Ministry of Culture Youth and Sport' Ministry of Education; Ministry of Home Affairs and Ministry of Labour –  continue to jostle each other to offer a variety of glamorous, ad hoc, training course for young people," he said.
The Amerindian Affairs Ministry, earlier this year, launched a $200 million Youth Apprenticeship and Entrepreneur Programme (YAEP) which targeted youths to be trained to culture, education, governance, health and sports for six months.
However, Granger yesterday said these individuals went back to their communities with a piece of paper, but nothing that can help them to contribute to the e economic landscape unique to their communities.
The Culture, Youth and Sport Ministry currently conducts the youth Entrepreneurial Skills Training (YEST) programme for out-of-school, unskilled and unemployed youth. This initiative is aimed at readying these individuals for entry into other learning institutions of learning, employment and self-employment. Additional ventures include the Education Ministry's Technical and Vocational Education Training (TVET) programme, the Home Affairs Ministry's "life skills" training under their Citizen Security Programme (CSP), and the Labour Ministry's Board of Industrial Training's two year National Training for Youth Empowerment (NTPYE).
These are but a few of the programmes implemented by government, yet Granger dismissed them as "Band-Aids" since "they all provide short term remedies, but do not provide the long-term careers that youths desperately need."
Backing up Granger's offerings, APNU MP Christopher Jones shared that Finance Minister Ashni Singh disclosed last year that 1,700 persons would be trained by the ministry as the government made attempts to better equip them with the necessary skills to obtain gainful employment.
He said though, that when asked how many of these 1,700 persons were able to gain employment as a result of the training, the minister could not provide an answer. As such, Jones is convinced that the NTPYE, TVET, and other such government initiatives are merely "schemes" orchestrated to present the illusion that something is being done about employment and the factors which proliferate unemployment.
Instead of a plethora of varying initiatives, Granger suggested the government should look at a national approach, which would see permanent agricultural and technical educational institutions in every region providing the kind of instructions required to allow that particular region to thrive.
He said that academics, while important, should not be the only focus since not everyone is interested in, or cut out for it.
Granger is of the view that work needs to be done to curb the stigma attached to vocational fields, and the persons who venture into these sectors since they are as important to the country's development as those who pursue academics.
Such policies, Granger argued, are necessary if the government wishes to circumvent the "dangerous social crisis" which looms.
Around the Web