A businesswoman was yesterday morning found dead in her Diamond Housing Scheme home, which was doused with diesel and partly burnt.
The body of Sirmattie Ramnaress, 46, was found in her Lot 2430 21st Avenue, Diamond Housing Scheme, East Bank Demerara home after smoke was seen bellowing from the house.
According to a police press release, Ramnaress was found around 10am with injuries to her head and left hip. The house, the police said, was ransacked and drenched with a flammable liquid and a storage bond at the rear of the building was destroyed by fire. Police also said that her car was found abandoned on the public road at Liliendaal, East Coast Demerara.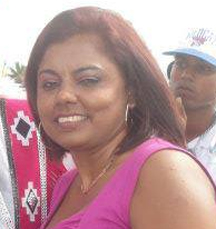 The mother of one lived alone in the building but had had a long term relationship with a senior policeman, who is stationed on the East Coast. At the crime scene yesterday, the man could be seen assisting other police officers with the investigation as the relatives of the woman stood outside of the yard.
Ramnaress' body was in the living area at the back of the garage. Fire fighters managed to put out the blaze in the garage, thereby preventing it from spreading to other sections of the building.
Neighbours related that they had seen the woman earlier in the morning sweeping in the yard. They also recalled seeing smoke coming from the direction of Ramnaress' house but thought the source were the cane fields.
But Crime Chief Seelall Persaud told Stabroek News that Ramnaress was last seen alive at 9:05pm on Friday night.
He said that yesterday morning her body was found in the lower flat of the house with lacerations to her hip and head but noted that the motive of the crime had not yet been ascertained.
Stabroek News observed that Ramnaress' house was equipped with surveillance cameras and an alarm. It also has an automatic gate which would have to be opened by someone inside of the house in order for visitors to enter. There was no sign of forced entry yesterday, suggesting that the woman may have invited her killer(s) inside.
One neighbour said that Ramnaress' alarm usually goes off every morning and she would hear it but yesterday morning she heard nothing.
At the scene yesterday, the dead woman's relatives were gathered at her home but were not allowed to enter the house because firemen and investigators were conducting their investigations.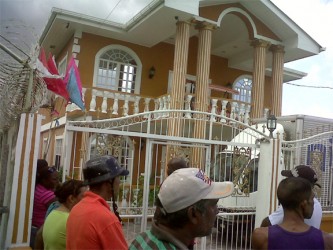 Ramnaress' eldest sister said she got a phone call from her brother informing her that her sister died. She said she then visited the scene but complained that she could not see her sister's body up to when this newspaper spoke with her.
According to the sister, Ramnaress had celebrated her birthday on Monday.
Around the Web