A month after the decomposing body of Delon Melville was found in the Mocha backdam, the dead man's family says that the police's sloth in acting on information has lessened the chances of a breakthrough in finding the perpetra-tor(s).
The man's family says police ignored reports of persons threating Melville prior to his death, did not follow up on a missing persons report on his disappearance, did not properly investigate telephone records made from his phone and failed to act on a report about a young man from the area who had scratch marks on his hand after the discovery of the body.
Stabroek News has learnt that police now have a printout of the telephone records for Melville's number. The family had complained about the police dragging their foot on this aspect of the investigation, especially since it was after receiving a phone call that Melville left his house and was never seen alive again.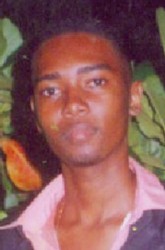 Crime Chief Seelall Persaud told Stabroek News that investigators are going through the records. He said that he is not aware of the man's relatives lodging any complaints that they were dissatisfied with the investigations.
From all indications, the police are still to ascertain the motive for the murder and are still looking through the man's background to see if they can pick up any clues.
Melville went missing on the evening of July 29 and was discovered on August 2 by a group of men who were heading out in the early morning hours to catch birds. When he was found, he was naked and his body bore countless stab wounds. One of his legs was also broken and his throat slit.
Relatives told Stabroek News that they have heard nothing about an arrest although there had been rumors that three persons had been held.
A close relative, who did not want to have her name published, said that when she learnt that Melville did not return home, they knew that something was wrong since he was not the type of person who would sleep out.
"He would have never left this house unless he knew you. That person that call him, he trusted and knew that person. This is the first time he did that. He don't be walking around the place," she said.
"We start looking around and we went all to the station (Mocha outpost) and make a report. What pissing me off is when we go and make the report there was one police. She told us that she can't move to go nowhere because it was her alone and we gotta wait till they send people," the relative said, while noting that all they wanted was for assistance to search the village end to end.
She recalled that around 6:30 am on August 2, relatives were informed that Melville's body had been found.
"I start run up the dam… I get a stench and I cross over a bridge like six lantern post going up. When I meet, I did not have to go close to that gutter I said that is Delon. What beating me is how they killed him. They break he foot. At the PM [post-mortem examination] the stab wounds were so multiple that they could not count them. And then they buss he throat," the woman told Stabroek News.
She added that when relatives go to the police, there is never any positive information and "it driving me crazy."
"The church telling you keep praying but it is not only about praying. This is something you have to deal with inside of you and it will take a while. We ain't getting no justice so far. They should have started this case since it raw," the relative said. "From the time they found the body, they shoulda start picking up these lil youths in this place and the names ringing in this place," she added.
Melville's family believes that the insults he received before his death may lead investigators to his killer(s). Young men in the community would always hurl "degrading insults at him and threats but he had ignored them," said one relative, who noted that they had often told Melville to report the threats to the police but he never did.
The relative singled out one particular person, who she said constantly picked on the young man and would call him names. "After the body was found, this particular person said that if it was he, he woulda murder he more brutal than that," the woman said sadly. This information was passed to the police, she said but it was never acted upon as the man was never arrested.
The woman noted that while setting up a tent at one of the wake nights, she noticed a youth who was close friends with Melville acting strange. Melville, she said, had been warned to stay away from him.
"The night at the wake since our eyes mek four, he bow he head, drop the tent and he walked away. He didn't cross that gate and my whole skin and my mind tell me that he knew something. If you see this lil boy skin. Like Dellon retaliate and scratch him up," she said.
The woman told Stabroek News that she told police of the encounter and her suspicions but he was never detained. She said that the young man has since vanished. "If they had moved when people give them information, we woulda gone far in this case already," she said.
She noted that after the body was found, police never revisited the scene to see if they had left anything behind or to see if they missed any clues. "His sneakers, his jersey, his long foot shorts jeans everything was left there when they moved the body. He was naked when he was found. They strip him. When I say his body, they took his jersey and tie it around his neck and pull it over his face," she said, while adding that police did not put any yellow tape at the scene.
"The people that find Delon body said that they saw fresh footprints. That mean the murderer went back to see if the body was still there," she said, while also noting that no crime scene persons or tracker dog was at the scene when the discovery was made. "If you see people who went to see the body and when we spread the news that Delon was missing if we had gotten 50 that woulda do we good," she added.
Around the Web