The Alliance for Change (AFC) considers government's decision to discontinue the Berbice River Ferry service 20 years ago the catalyst for the increased cost of living and unemployment which now prevails in the Berbice River area.
AFC MP, Trevor Williams during a press conference on Thursday, told reporters that persons travelling on one of the privately-owned and operated launches which ply the 20-hour journey between Ituni and New Amsterdam are forced to make the trip on vessels with no washroom,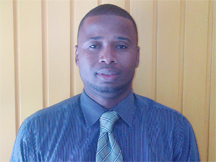 sleeping or resting facilities. Passengers nevertheless, have no option, Williams said, and are forced to make the most of the unsavory conditions which prevail on the vessels.
Furthermore, passengers are asked to pay "very high" costs to transport themselves and their goods. "One drink case or small cartoon box is priced at $300 (while) a passenger one way fare is $3000" and $5000 is the required price to transport "a drum of fuel and all packages must be paid for."
Williams told reporters that these and many other grievances were unearthed during a two day visit to several communities along the Berbice and Demerara rivers, including Kwakwani, Aroaima, and the Wikki-Calcuni reservation.
Also of concern to Williams was the fact that "residents of Upper Demerara/ Upper Ber-bice can no longer be involved in agricultural development, forestry or operate their businesses in a sustainable manner." This is especially troubling since the production and sale of primary produce is traditionally the top income earner for persons in this area.
Williams said that residents along the river, from New Amsterdam to Kwakwani, stretching approximately 180 miles, were once able to conveniently produce, transport and trade large shipments of agricultural and forestry produce as well as dairy products. Additionally, they were able to access hucksters and transport their families, including children going to school, to and from New Amsterdam at affordable prices, and in a safe manner.
These prevailing conditions, Williams said, have resulted in massive migration by persons in search of an easier life. Many of them have left their homes, as well as fertile farmable lands behind, vowing only to return if the original ferry service is restored.
Despite the grim outlook though, Williams is optimistic that the economy of this area can thrive once more if the government re-installs the ferry service. He therefore urged the government to "act now and bring the sufferings of our Guyanese brothers and sisters to an end."
Around the Web