Amerindian Heritage Month, 2013 was launched last evening at the Sophia Exhibition Centre.
GINA said that addressing the large crowd at the launching, President Donald Ramotar said that only under the People's Progressive Party/Civic (PPP/C) did Amerindians experience development.
Also present were Prime Minister Samuel Hinds and several Cabinet members.
Ramotar said, according to GINA, that the first wave of development in Amerindian communities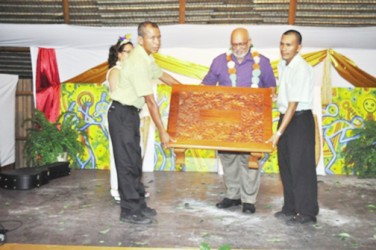 can be traced back to the period of 1957 to 1964. This was the time when the PPP was in Office. President Ramotar said that during this period, the then PPPC Government started to expand the education opportunities in the Hinterland and also introduced the Hinterland Scholarship programme.
"We also introduced at that time health services, a service that was almost totally absent in Amerindian communities," he declared.
All of these services disappeared or at best stagnated after 1964, the President said, adding that the second period of Amerindian development is the one in which Guyana is presently going through, and is one that began in 1992.
This year, the Amerindian Heritage Month celebration is being held under the theme, "Honouring our culture; advancing our future." President Ramotar  suggested that one of the ways Amerindians can preserve, develop, advance and build on their culture is to preserve their language, GINA said.
The celebration will continue at the village at Sophia with craft and food exhibitions that will run for one-week (September 2-5.)  Karasabai, Region Nine has been designated Heritage Village and the celebrations will move there on September 7, GINA said.
Around the Web