Fire Chief Marlon Gentle yesterday said that an unattended candle was the cause of the fire which killed two children on Joseph Pollydore Street two Sundays ago.
Gentle told Stabroek News that further investigations verified that an unattended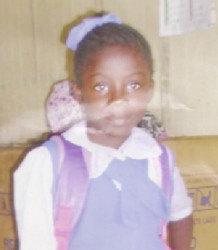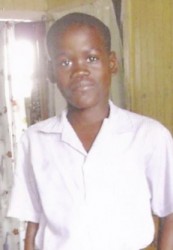 candle started the blaze in the middle of the home which prevented the two small children from escaping and being trapped in one of the bedrooms.
One week since the death of eight-year-old Shania Marshall and her 11-year-old brother Adam, the Child Care and Protection Agency is still investigating whether the children's mother, 36-year-old Odessa Thomas was in fact at home when the  house went up in flames.
Director of the CC&PA, Ann Greene told Stabroek News that the agency is continuing its investigation but that the matter will also have police involvement because of the severity of the situation. Greene said that the tragic death of the two children was something Thomas "would have to live with that for the rest of her life," and that "there would be no greater punishment than that."
Greene stated that for now Thomas has two other children currently in temporary custody including the 13 year old who was also burnt when he climbed out of a window of the Lot 71 residence,  escaping the fire that claimed the lives of his two siblings. Stabroek News was made to understand that the children's grandmother, who was initially hesitant to take the children, has since reconsidered.
Thomas has had six of her children in and out of temporary custody, she currently has a daughter over the legal age, however, the  CC&PA did not believe her to be an appropriate caregiver to her younger siblings and had placed them with the grandmother. Greene said "we have to continue working with her (Thomas) because she is in need of assistance."
On August 25, Shania was heard screaming for her mother at approximately 4:00hrs when the home caught fire. Neighbour recalled the house being burnt in minutes and hearing the children screaming, however many noted the blaze was so intense they could do nothing. The children's mother is currently still being investigated to  see if she was home at the time of the fire. Eyewitnesses have told the authorities that Thomas was in fact arriving  home at the time of the fire. The CC&PA has noted that Thomas does appear to have holes in her story and was unable to explain how she exited the home while the fire service had to break down the doors once they reached the scene.
Stabroek News spoke with Thomas while she was in the hospital, but she was in shock and could only say that everyone who was home was sleeping when the fire began.
Around the Web