Diamond businesswoman Sirmattie Ramnaress was security conscious and would always check her closed-circuit cameras before letting anyone in, deepening the mystery as to how someone got into her heavily fortified premises, murdered her and set her house ablaze.
Two days after her slaying there should be a wealth of clues for the police to pursue including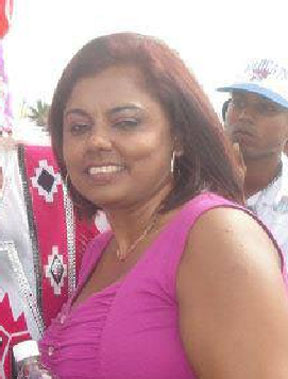 the stealing and abandoning of her vehicle at Liliendaal – most likely by her murderer – but relatives have not been given any details of what progress has been made.
Ramnaress was found dead around 10 am on Saturday with a stab wound and injuries to her head in her partly burnt premises. She had been discovered after the fire service had been called about a blaze at the house.
A tantalizing lead is the use of her vehicle to travel from Diamond to Liliendaal. There could possibly have been numerous sightings of the occupant along the way or at the point of exit from the vehicle.  Though no one has yet said they saw any one enter the premises this would be a further point of inquiry by the police with persons living in the area. There would also be various types of evidence of the driver in the vehicle.
He common law husband of 21 years, Colin Bailey opined that the business's storage bond seemed to be the target of the fire as it was most affected by it.  It was understood that fuel was splashed  inside and the arsonist/murder set it ablaze. However, all the "goods" in the bond were not destroyed.   Fire Chief Marlon Gentle told Stabroek News that it was the bond that was ablaze when firemen arrived at the scene on Saturday.
There has been no arrest so far.  Bailey, a policeman, scoffed at suggestions by some that he was in some way involved in her killing.
" I have heard a lot of things but I would never, no, no, no they don't know me , I am not a person like that I believe that if you can't work out (the relationship) or you realize that this is it to part ways civilly …I was with her  for 21 years and I love her… I am cooperating fully…I have a clear conscience", Bailey told Stabroek News from the Lot 2430 21st Avenue, Diamond Housing Scheme, East Bank Demerara home.
The 46-year-old mother of one's body was found in the garage after smoke was seen billowing from the house she shared with Bailey.
According to a police press release, Ramnaress was found around 10 am with injuries to her head and left hip. The house, the police said, was ransacked and drenched with a flammable liquid and a storage bond at the rear of the building was destroyed by fire. Police also said that her car was found abandoned on the public road at Liliendaal, East Coast Demerara.
While neighbours related that they had seen the woman on Saturday morning sweeping her yard, Police Crime Chief Seelall Persaud told Stabroek News that Ramnaress was last seen alive at 9: 05pm on Friday.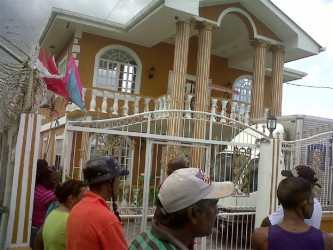 Yesterday, one of the residents in the area maintained that it was the woman she saw in the yard saying that she believed that the businesswoman was probably murdered in the morning on Saturday and remains adamant that it was not during Friday night. "This don't make any sense because she was in the yard I telling you…me aint know she all these years?",  the woman said. Asked if she related this to the police, the woman said that she will not because of fear for her own safety.
Gentle told this publication yesterday that his servicemen in responding to a fire at the home radioed in to report that a body was observed in the garage of the building and requested police backup. Residents had already formed a bucket brigade by the time the fire service arrived and were in the yard trying to quell the blaze.
Questioned on if Ramnaress was clad in sleeping wear, a close  relative said that no one remembers what the woman was wearing at the time the body was found as they did not think it important to take note of her clothing.
Bailey said that the body bore a single visible stab wound but was badly brutalized as it seemed that she was beaten. "Who would want to do that to her? She was so kind to people always giving…she was beaten badly she had a stab here (pointing to his hip) and her head was bleeding," he said.
"She was the type that would have put up a fight. She would not let anyone just take her things from her so I know there was a struggle …she had that type of personality," he added.  Bailey said that the businesswoman was also very security conscious and would have checked her cameras before letting anyone in.
He informed that his alibi was solid, as knowing that he was to report for duty very early Saturday morning because of Venezuelan President Nicholas Maduro's visit, he stayed at another residence at Vryheids Lust on the East Coast. He said that Ramnaress advised that he do so to avoid the travel and even brought him food on Friday which was to be frozen for him to take when he went to work. As planned, he reported to work early Saturday and then was part of the escort which left for the Cheddi Jagan international Airport, Timehri in anticipation of Maduro's arrival.
It was at the airport that he received a call that his wife was found dead and that there had also been a fire.
He said that he was at first shocked to hear that persons would even suggest that he had a motive to kill Ramnaress because they were not legally married and he stood to gain nothing materially if she was dead. In addition he explained that the 21 years the duo spent together it was to him "better than most marriages".
Bailey said that the relationship with his wife was not a volatile one but admitted that the two would sometimes argue. "As in all relationships we had our ups and downs, like in all relationships, but never violent I am just not that person but I guess people will just say things sometimes some don't even know you but they will just talk," he said.
Further, he noted that even some of his wife's family members were peddling the notion that he probably was involved but said that in times of mourning, emotions could be high but that his training has kept him composed and not stressing over what some feel.
He pointed out that surveillance tapes were stolen from the family's master bedroom but would not comment if there was a back-up as he did not want to "interfere with police investigations".
He explained that she was a hard worker who acquired her wealth over long, hard-working years as a trader. "She worked very hard she used to trade with bags, sleep at the airports and so on. She was also at one time the franchise owner of the 'Chief' brand… she was a businesswoman…if anyone knows how hard she worked to get where she is they would have left her alive," he said.
Yesterday, he returned the keys to the house to her sister giving them full access to her belongings and room to probe further if they so desired.
Ramnaress' relatives said that it was a difficult time for them as only two weeks ago some of them had returned overseas after staying with her. She had also recently celebrated a birthday.
They described her bubbly personality and said she was a person who found giving as a sixth sense sometimes to the point where persons took advantage of her. She enjoyed cooking and loved being with her family.
Her autopsy will be performed today.
Around the Web