PARAMARIBO,  (Reuters) – Suriname's president said today the arrest of his son in Panama on charges of smuggling cocaine into the United States was timed to embarrass him as he hosted a regional summit.
President Desi Bouterse's son Dino, 40, was arraigned on Friday in a New York federal court accused of cocaine trafficking and being armed during a drug-related crime, in this case allegedly with an anti-tank rocket launcher.
Also on Friday, Bouterse was welcoming Latin American leaders to Paramaribo for a summit to mark Suriname taking the temporary leadership of the UNASUR regional trade bloc.
"It was perfect timing … I almost want to say that I could have organized it myself," the president told reporters on Monday, when asked about the arrest.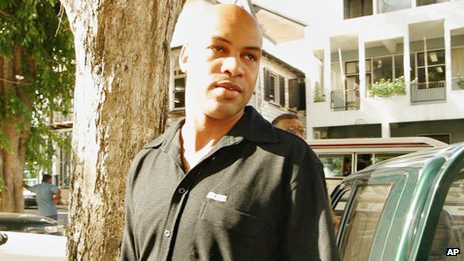 "Luckily it did not achieve its goal" of disrupting the summit, Bouterse said, adding that other heads of state had offered him their sympathy and in some cases the services of their lawyers too, should his son need them.
"You have to put aside the issues that affect you personally, emotionally, and say, 'What is the most important thing?' The most important thing was the UNASUR meeting."
Dino Bouterse faces a maximum penalty of life in prison if convicted of either of the two charges, which relate to events between December 2011 and August 2013.
He was convicted in Suriname in 2005 for trafficking drugs, illegal weapons and stolen luxury cars, but was later given a senior role in the government's counterterrorism unit.
He was also convicted in absentia in the Netherlands in 1999 for smuggling more than 1,000 pounds of cocaine to that country.
The elder Bouterse is a former military dictator accused of human rights violations, including the killings of 15 political opponents in December 1982. He ruled tiny Suriname from 1980 to 1987, and reclaimed power in 2010.
Since being elected in 2010, Bouterse has obtained diplomatic immunity against the charges and Interpol dropped its arrest warrant for him.
"Dino has 13 children," the president said on Tuesday. "Of course, I'm still a father, but I don't interfere in his private life. He is a big, grown-up man."
Around the Web