Frustrated residents of the East Bank Demerara community of Garden of Eden say that they are disgusted and fed up after making pleas to those in authority about the decrepit bridge only to have it collapse the day before school reopened.
The 55-year-old bridge, which is the main means of entrance into the community that is home to approximately 700 residents, collapsed under the weight of a truck on Sunday afternoon. "Long now we keep saying that this bridge is going to collapse and look what happen, the day before children supposed to turn out to school it gone and break," a resident said.
Stabroek News was told that there are big trucks travelling on the bridge daily and this was one of the main reasons why the wooden bridge was in such a bad state prior to its collapse. "They just come and put up two concrete rails on the bridge but that ain't last no sort of time," a resident explained.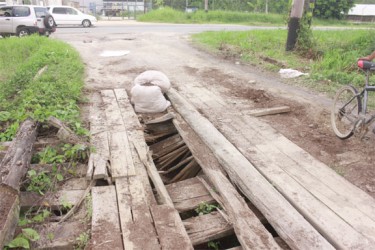 During a visit to the community in July, residents had pointed out that the wooden bridge at the head of the roadway immediately off the highway was crumbling. Residents said too that it was normal for them to disembark their vehicles and walk because the state of the road was so bad vehicles could not drive on it. The residents said that although the bridge was not the only plight they face, it is the main one.
They are also bemoaning the state of the road which they say is in dire need of repairs. "Ministry of Local Government came and gave us 60 tonnes of crusher run. They just come and dump two piles and left it. We tried to fix some of the holes. Several of us in the community came out and threw the crusher run in some of the holes. We fed up," one of them said.
A sign was also erected by the NDC to prohibit overweight and double axel vehicles from crossing the bridge, but persons in the village say that the sign is barely visible.
According to a resident, work was done several years ago by Courtney Benn Contracting Services Limited but that quickly deteriorated.
"About three of four years ago… They threw crusher run, then some sand and then tar water on the road but by time we drive on it two morning and then all of these big swimming pool holes start appearing," a resident who requested anonymity said.
Residents also stressed that the trenches in the community that were once home to two manatees, are overrun by weeds and grass and that the NDC is not doing anything about it. "Long ago we used to use the trench for washing and even used to drink the water but now we can't do that anymore because of the condition of the trench," a resident added.
Around the Web