High winds on Sunday wreaked havoc in the Garden of Eden community, blowing the roof off one house and sending a tree crashing onto a utility pole that left the area without electricity up to late yesterday afternoon. No one was injured.
Yesterday, a similar disaster struck at the Shieldstown Nursery on the first day of school which saw several zinc sheets being blown off the roof; thankfully the students had already left.
Garden of Eden resident Veronica Gravesande told Stabroek News that she was home with her daughter and another relative when it started to rain. She said the louvres started rattling and the next thing she knew part of her roof blew off.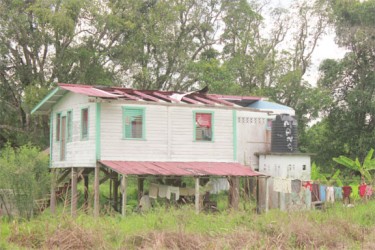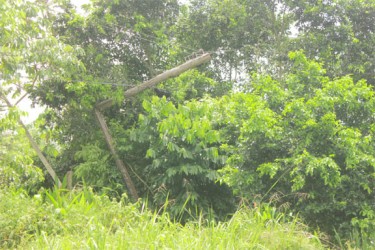 "I was heading to the bathroom when all of the louvres started shaking when the rain came down," she said. "The next thing I know the whole zinc from the washroom to the front fly straight off. I just grabbed my daughter and run outside."
When Stabroek News visited the village, Gravesande was preparing to commence works to replace her roof.
Residents in the community also highlighted to this newspaper that one of the poles in the village fell down after a tree crashed onto it, causing a power outage in the area.
"Whole day Sunday we had no light and up until this afternoon, was the same thing. After the pole break in half we called GPL but they told us that they are short of staff and if we can help them in clearing the area so that they can come and fix the lantern post," Kevin, a resident told this newspaper.
According to the man, residents in the area were expected to come out later to chop down the fallen tree and clear the area so that GPL could replace the post for power to be restored to the community.
At Shieldstown, the wind was accompanied by heavy rainfall and two terrified teachers who were still in the building tried desperately to move some of the items to safety.
A television set and a few other items could not be saved from the downpour as water seeped through the creases of the wooden ceiling. The galvanized sheets were scattered in the compound.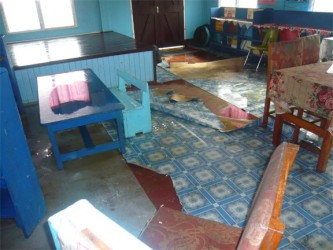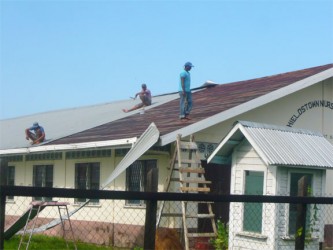 A team of officials from the region and the education department including Chairman Bindrabhan Bisnauth and Regional Information Officer, Sandie Ross-Hendricks visited to assess the damage and offer support to the teachers.
Emergency repairs were immediately conducted and school is expected to resume as normal today.
Around the Web