The cries for help from an abused woman in Berbice were heard by the Ministry of Human Services and Social Security which has offered to provide her with a safe home.
Seema Raman, 40, who endured 18 years of abuse at the hands of her husband, attempted to end her life last Thursday for fear that he would carry out his threat of murdering her.
She ingested a quantity of sleeping pills in a desperate escape bid and was rushed to the Fort Wellington Hospital where she is currently recovering.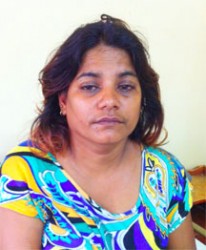 She now says she has had enough and wants out of the relationship. The story about her life of misery and torment was published in this newspaper yesterday.
When contacted by this newspaper yesterday, the woman was relieved that officials from the ministry had contacted her and offered to help.
In a release, the ministry said it was made aware of the woman's plight by the police, who were summoned by hospital staff. It said too that social workers have since visited her in the hospital, where she is recovering.
According to a press release issued by the Human Service Ministry yesterday, Minister Jennifer Webster "has assured that once the hospital discharges the woman, the ministry will assume responsibility for her care until she is able and empowered to be reintegrated."
The release said Webster noted that "the ministry remains committed to helping women in difficult situations." She also reminded that "eliminating violence, domestic or otherwise, is everybody's business."
The minister has called on persons who are aware of others being abused to speak out and report the abuse.
She also restated her earlier call for women to exit abusive relationships early, adding that the ministry is committed to supporting women who choose to leave abusive relationships, the release said.
Raman's husband had cuffed her face, causing her to bleed and drove her several miles from the East Coast Demerara to a small house they own on a garden plot at Fort Wellington.
She lost consciousness along the way. When she regained consciousness, she said, the man had already tied her hands to a bed with pieces of rope and was about to tie her feet.
She started to scream for help but no one could hear her in the desolate area. She said he also stood over her with a knife and threatened to slit her throat.
She begged him to spare her life so she could get to see their three children; a boy, aged 16 and two girls, aged 10 and 7 years old. The children live elsewhere.
He insisted that he would kill her and at that stage she told him "don't slit my throat because I don't want to punish… Just bore me and kill me or give me some poison. And he tell me he gon cut me up all over and punish me before me dead."
She decided to bargain with him and said she would "agree to whatever you want to do… I won't tell anybody what happen and I won't involve the police; just take me to see my children."
He then released her and took her to Blairmont to see her children. But when she got there she broke her promise and started to relate everything that had transpired and this angered him.
She said he forced her to return to the hut with him but she refused for fear that he would carry out his threat. The man again threatened to kill her if she called the police.
Confused and scared, Raman took drastic action ingesting a quantity of sleeping pills belonging to her sister.
Around the Web